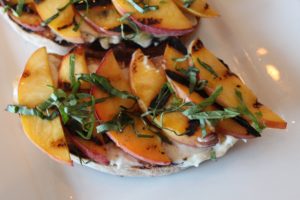 In celebration of National Peach Month in August, Spuntino Wine Bar & Italian Tapas, shared this easy and tasty recipe for grilled peach bruschetta.
Makes 12 bruschetta
Ingredients
1 loaf of rustic bread, cut into 12 slices about 3/4-inch thick

3/4 cup mascarpone cheese
3 peaches, thinly-sliced and grilled
3 tsp Maldon Sea Salt
1/4 cup honey

1/4 cup of chiffonaded basil
1/4 cup sliced almonds, toasted
Preparation and Cooking Instructions
Place the bread slices on a hot grill for 1 – 2 minutes per side until toasted with some char but not burnt.
Spread the mascarpone cheese on each piece of bread.
Place grilled peach slices on top of the mascarpone with Maldon sea salt.
Drizzle honey on top of peaches.
Garnish with the basil and almonds.