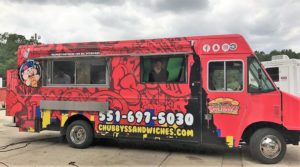 Chubby's Sandwiches Food Truck is now officially opened in downtown Jersey City's Exchange Place. This state-of-the-art food truck, serving Italian butcher-style sandwiches for breakfast and lunch, is the brainchild of childhood friends turned business partners Chef Nick Daniele and Joe Buonsante.
The truck features a custom-built state of the art kitchen modeled after the kitchen of Chef Nick's acclaimed Park Slope, Brooklyn restaurant, Bella Gioia. The 18-foot truck is also available for private party rental, has a video monitor on the outside and sound system ideal for entertainment at events where they can play slide shows, movies and music.
THE SANDWICHES
There is an emphasis on fresh, quality ingredients, Italian meats and cheeses and local, fresh baked bread from Calandra's Bakery.
The menu offers an assortment of hot breakfast options "Rise n' Shine" and lunch "Afternoon Delight" sandwiches along with other fun munchies. There is also a Lil' Bites Kids Menu available to please the 11 and under crowd.
Rise & Shine
Egg & Cheeze eggs any style, shredded mozz $3.99
Bacon Egg & Cheeze thick cut bacon, eggs any style, shredded mozz $4.99
Sausage Egg & Cheeze breakfast links, eggs any style, shredded mozz $4.99
(above served on fresh, buttered and grill seared bread)
Egg Whites n' Avocado egg white omelette, avocado spread & cherry tomatoes on whole wheat $7.99
Afternoon Delight
The Original Chubby – Hot roast beef, gravy, lettuce, tomato (add cheeze) $10
Not Your Philly Cheesesteak – NY strip steak, mozzarella, hot cherry peppers, red onion, oregano, poached cherry tomatoes, garlic sriracha spread $13
The Chris Christie -Chicken tenders, provolone, yellow American, mozzarella sticks, chopped lettuce, fried egg, chipotle mayo
The Southerner -Grilled chicken, Calabrian chili, Sicilian pesto, arugula, provolone cheese, pepperoncino, sun dried tomatoes
Location, schedule, event booking and menu can be found on the website and social media.
Tentative Hours: Monday – Saturday 7-10am breakfast (coming soon) /Lunch 11am – until sold out daily; Closed Sunday. Local delivery available. Truck is available for private event bookings.