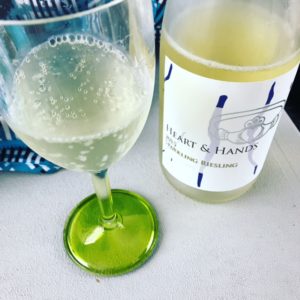 I've been a member of Heart & Hands' Claddagh Club, its wine club, for several years and enjoy that, once in a while, I'm contacted about something totally unexpected by this stellar Finger Lakes winery. This time, it was about its sparkling Riesling with bottle cap enclosure – how could I pass that up? The one thing I regret is only buying a half case.
Looks: Palest of yellow in the glass with tiny bubbles.
Smell: Apple and pear aromas with hints of citrus.
Taste: Green apple and tropical fruit flavors with a dry, bright, crisp finish.
Texture and Finish: Nice minerality and acidity with a medium finish.
This bubbly is great as an aperitif but it's also very food friendly.
Winemaker's note(s): Crafted in the traditional method: primary fermentation in stainless steel, then bottle fermented and aged en tirage on the lees.
Pairings: Fried chicken, grilled fish, seafood.
Style: Sparkling Wine
Grape Type(s): Riesling
Region: Finger Lakes, NY, USA
Price: $26.99