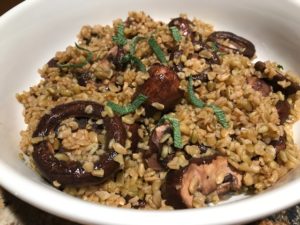 I try to stay faithful to Meatless Mondays and that's a bit easier when I can incorporate "meaty" mushrooms to my recipes. This is one of my "not really a recipe" recipe that takes very little effort to make and is pretty darn tasty.
I use freekeh from Freekehlicious, the leading importer of Greenwheat Freekeh, a product of Australia and toss it with some slowly sautéed Cremini mushrooms. Yes, you could totally make this with regular button mushrooms, but I like the beefiness of Cremini. I've also topped this dish with some grated Parmesan and it was delish.
Ingredients:
1½ cups vegetable broth (could use water or chicken or beef broth)
½ cup freekeh
2 Tbsp. vegetable oil
1½ pounds small Cremini mushrooms (or large ones cut in half)
1 garlic clove, minced
¼ cup Worcestershire sauce
3 Tbsp. soy sauce
1 Tbsp. chopped fresh sage
1/4 tsp. each salt and pepper
½ cup grated Parmesan cheese (optional)
Directions:
In a small saucepan over high heat, bring the broth to a boil. Add the freekeh, stir, turn the heat to low, cover and simmer for 20 minutes (or follow package directions). Turn the heat off, keep the lid on and allow to sit for 5 minutes.
Warm the oil in a large sauté pan over medium high heat then add the mushrooms. Cook for about 10 minutes, tossing frequently, until the mushrooms are browned and softened. Add the garlic to the mushrooms and cook for a minute. Add the Worcestershire sauce, the soy sauce, the sage and the salt & pepper and cook for another minute, tossing the mushrooms in the "sauce" to coat.
Add the cooked freekeh to the mushrooms and toss to combine.
If using, top the freekeh/mushroom mixture with the parmesan.
Yields two servings.