A couple of weeks ago, I attended a wine pairing dinner featuring the wines of Paco & Lola from Galicia Spain. The dinner took place at a local restaurant and wine bar, Tree Tavern, and a representative from the winery, David Geary, was on-hand to offer interesting information about the wines, the winery and Galicia Spain, where the winery is located.
About Paco & Lola
Paco & Lola is a relatively young winery founded in 2005 that's committed to making wine in a modern, fresh way and for exuding a sophisticated-yet-fun image for wine drinkers with its polka dot branding.
Paco & Lola was born from a business initiative of a group of independent winegrowers from O Salnés who wanted to take their production to a professional level. These winegrowers formed "Sociedad Cooperativa Vitivinícola Arousana" which is now the largest cooperative in the DO Rías Baixas with over 400 members.
Paco & Lola is a producer of Albariño, considered THE white grape variety grown in Galicia. It's an early ripening grape variety with small, tightly-packed clusters of sweet, deep golden berries that are renowned for their outstanding sugar-producing ability and remarkable high acidity.
Some tasting notes from the wines we tasted at the dinner:
Paco & Lola 2016 Albariño – 100% Albariño ($29.99)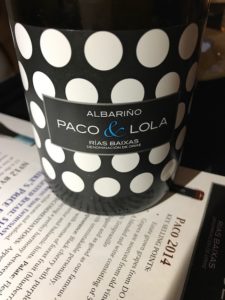 In the Glass
Light straw yellow with a touch of green.
Nose
Lovely fragrant aromas of juicy pear, green apple with a bit of tropical fruit and some floral notes.
Palate
Tropical fruit continues on the palate with some Meyer lemon notes. Medium-full bodied wine with nice amount of acidity on the long-ish finish.
Food Pairings
Fish, seafood, white meats
Nº12 by Paco & Lola – 100% Albariño ($19.99)
12 were the days that the must fermented in the tank number 12.
In the Glass
Light straw yellow with a touch of green.
Nose
Meyer lemon and floral aromas with a hint of tropical fruit.
Palate
Big mango/lychee fruit flavors with good acidity.
Paco Red 2014 – 50% Tempranillo, 50% Garnacha ($18.99)
While Paco & Lola focuses on Albariño, it produces this red out of the DO Navarra, where Tempranillo- Garnacha grapes from old vines are harvested in vineyards of the Valdizarbe subzone. It was recommended this wine be served a bit on the cooler side, at around 56 degrees and I completely agree.
In the Glass
Dark cherry red with some purple hints.
Nose
Big red berry aromas with some floral notes.
Palate
Juicy dark berries and cherry flavors.
Food Pairings
Solid Tuesday night wine ideal for pizza, red sauced pasta, grilled burgers.
Paco & Lola 2010 Vintage – 100 % Albariño ($54.00)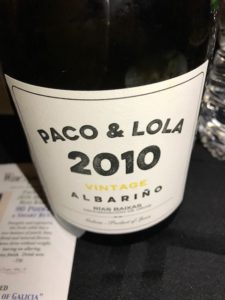 Special high-end wine made in a limited edition of the best harvest of 2010. There were 400 bottles produced, I wouldn't expect to find this in stores.
In the Glass
Intense straw yellow.
Nose
Candied tropical fruit with notes of nutmeg/cumin spices.
Palate
In love with this wine from the first sip – mouth-coating texture with big ripe fruit flavors and yeasty/toasted bread notes. Great acidity on a long finish.
Food Pairings
Lightly spicy foods (Thai, Indian), seafood, fish, roasted chicken or grilled pork.
Paco & Lola is expanding its reach in the USA and I highly recommend you check its wines out.
Cheers,
Veronique