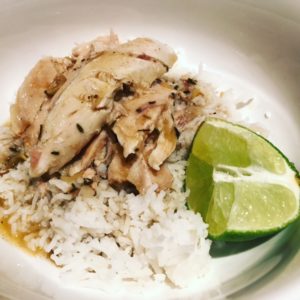 I had a couple of whole chickens in the freezer that I wanted to cook now that fall is here and I need the space in the freezer for bags of foods from my summer crops.
This recipe follows in my goal to make tasty dishes even when "there's nothing to eat in this house" so I opened the pantry and gathered leftover produce and made a roasted chicken with tons of Thai/Indian flavors that was a huge hit at my home.
I know roast chicken and white rice isn't the easiest to photograph BUT, this was definitely a tasty dish that took about 20 minutes to prepare (plus roasting time).
Ingredients:
5-6 pound whole chicken, washed under cool water and patted dry with paper towels
1 tsp. each salt and black pepper
3 large garlic cloves, minced
2 Tbsp. finely chopped lemongrass
1 Tbsp. grated ginger
1 tsp. thyme
1 Tbsp. olive oil
¼ cup vegetable oil
2 tsp. smoked paprika
1 tsp. garam masala (use curry powder if you don't have)
½ tsp. cayenne pepper
1 medium onion diced
13-ounce can coconut milk (I used light)
1 cup chicken broth (or 14.5-ounce can)
Slurry – 1 Tbsp. cornstarch whisked with ¼ cup water
Squeeze of lime juice (optional)
Directions:
Preheat the oven to 375 degrees.
Rub the chicken all over with salt and pepper.
In a small bowl, combine garlic, lemongrass, ginger, thyme and olive oil to create a paste.
Rub half the garlic mixture on the chicken, reserving the other half. You can use the chicken right away or store it for a day, wrapped in the fridge.
In a large Dutch oven over medium-high heat, allow the vegetable oil to warm for a minute. Add the chicken, breast-side down and brown for about 5 minutes then turn and brown the other side of the chicken for 5 minutes.
Remove the chicken from the Dutch oven to a platter.
To the hot Dutch oven, add the second half of the garlic mixture, the paprika, the garam masala and the cayenne pepper and cook for a minute until fragrant.
Add the diced onion to the spices and cook until softened, about 4 minutes, stirring frequently.
Add the coconut milk and the broth to the onion mixture and stir.
Return the chicken to the Dutch oven, cover and place in the oven. Cook for 1 ½ – 2 hours, until very tender, basting the chicken with the broth periodically.
Remove the chicken from the pot to a serving dish and place the Dutch oven on the stove over high heat. When the broth is simmering, add the corn starch slurry and whisk for 2 minutes until the sauce has thicken.
Carve the chicken and serve with Easy Basmati Rice and the sauce. I love adding a squeeze of lime juice to this dish, but it's optional.
Serves 6.
Inspired by this recipe.