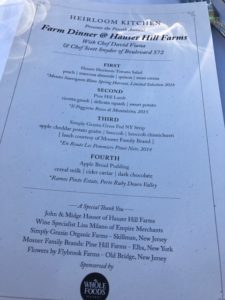 Last night, I was fortunate enough to attend the 4th annual fall dinner at Hauser Hill Farms in Old Bridge, NJ. The food was creatively crafted by one of the most talented chefs in the area, David Viana, of nearby popular restaurant, Heirloom Kitchen.
The setting was incredible – 110-person communal table in the middle of the farm's apple orchard. With the open air mock kitchen Chef Viana was working with, you'd think he would keep the menu simple and the plating easy-to-accomplish…but, no. He designed a menu reflective of the season and the gorgeous setting for the dinner.
Guests were warmly greeted by Heirloom Kitchen's Founder/Partner/General Manager Neilly Robinson and welcomed with a signature cocktail at a makeshift bar. Elegant bites were passed butler-style.
We found our way to our seats and found ourselves among loyal customers of Heirloom Kitchen, fellow groupies of Chef Viana and past attendees of the farm dinners. Great group of folks.
First course was the ultimate farm-friendly dish – Heirloom tomatoes, peach, marcona almonds, quinoa, mint crema. Vibrant colors on the plate, big flavors from the mint crema, great texture from the quinoa. Just a lovely dish and beautiful presentation.
Second course was – Pine Hill lamb, ricotta gnudi, delicata squash, sweet potato. Pure comfort on a plate with rich lamb, pillowy gnudi and sweet/earthy squash. This might have been my favorite of the evening.
Third was – Simply Grazin grass fed NY strip, apple cheddar potato gratin, broccoli, broccoli chimichuri. Perfectly-cooked beef (how does one do that in an open air kitchen for 110 people?), decadent cheesy potato gratin and the best example of broccoli I've had. Divine with the uber fruit-forward Pinot Noir poured from magnums (see my hubby excited about those magnums in the following pic).
Dessert was – Apple bread pudding. The perfect ending to an outstanding meal along with aged port.
The evening continued at a campfire under twinkling lights. Simply a magical night.
Cheers,
Veronique