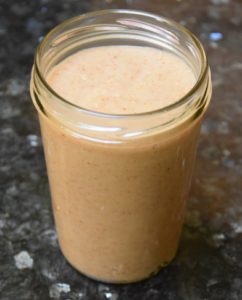 It's fall and since I love to go apple picking at our local orchard, I'm always looking for recipes that involve apples. My main issue with apple recipes – I don't like cinnamon! With this simple apple butter recipe, one could use or leave out the cinnamon – brilliant!
This recipe yields about 4 8-ounce canning jars and they can be kept refrigerated for a month. They make great hostess gifts!!
I replace regular butter with this fab concoction on my toasts in the morning – it's incredible.
Ingredients:
12 apples, peeled, cored and cut into bite-size chunks (I always use my old favs – McIntosh)
½ cup light brown sugar
1 tsp. pure vanilla extract
1 pinch of cinnamon, optional
½ cup softened butter
Directions:
Add the apple chunks and the brown sugar to a heavy pan over medium heat. Cook for 15 minutes partially covered, stirring occasionally. If the apple mixture gets dry, add ¼ cup water. Some apples are juicier than others are. After the 15 minutes have elapsed, add the vanilla and the cinnamon (if using).
Add the cooked apples to the bowl of an electric mixer and mix until very smooth, about 2 minutes. Add the butter and continue to mix until fully incorporated and creamy, another minute.
Add the apple butter to 8-ounce canning jars and keep refrigerated up to a month.