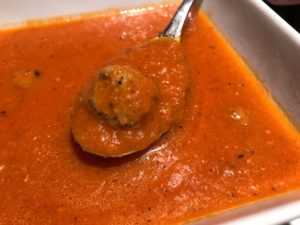 My guy's been asking me to make his childhood favorite – tomato soup with mini meatballs, for a while now. I just didn't get it…what could be better than rich tomato soup on its own, or perhaps served with a melty grilled cheese? Mini meatballs and tomato soup is actually better, that's the answer.
Last weekend, I finally agreed to try to replicate this soup from my hubby's childhood in The Netherlands and he loved it! I used my tomato basil soup as the base and just made tiny, the size of large marbles, meatballs that simmered in the rich soup.
To make things really easy, I used my stick blender to pure the soup but you could follow the recipe and use a standard blender also – up to you how much clean up you're looking to do!
Ingredients:
Recipe for Tomato Basil Soup
1 pound ground beef
1 large egg
2 Tbsp. bread crumbs
1 tsp. Worcestershire sauce
1 Tbsp. grated Parmesan cheese
1 tsp. each, salt, black pepper and dry basil
Directions:
Make the soup according to the linked recipe. Once the soup is cooked and has been pureed, turn the heat to low and keep warm.
In a large bowl, combine all the remaining ingredients and stir to fully combine, making sure to not over mix. I use my hands for this. For meatballs the size of a large marble. Add the mini meatballs to the simmering soup and cook, stirring occasionally, for 20 minutes.
Makes 6 servings.