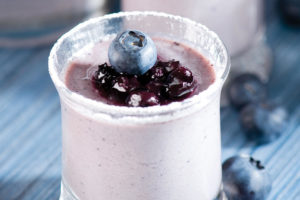 Panna cotta, which means "cooked cream" in Italian, is a popular dessert of sweetened cream that's thickened with gelatin. Since I love custards of all kinds, I'm a fan of panna cotta.
I've been in a blueberry mood since the start of the season. I put blueberry on my cereal to start the day and end the day with blueberries on my Greek yogurt – just yum!
This is a simple recipe that's easy enough to make for a week night but impressive enough to make for a special occasion.
Ingredients:
3 cups whole milk
4 ounce cream cheese
1 Tbsp. honey
10 Tbsp. blueberry jam
1 tsp. pure vanilla extract
1 packet (7 grams or 2 ½ tsp.) flavorless gelatin (I use Knox)
6 ½ Tbsp. water
½ cup fresh blueberries
Directions:
In a heavy saucepan over low heat, cook the milk, cream cheese, honey, 4 tablespoons of jam and the vanilla for 15 minutes, stirring frequently. Set aside for later use.
In a small bowl, dissolve the gelatin in 1/5 cup of cold water. Add the rest of the water to a saucepan and bring to a boil. Add the hot water to the dissolved gelatin and whisk to fully incorporate. Add the gelatin mixture to the milk/cheese mixture and whisk to incorporate.
Using a hand mixer, blend the mixture until mostly smooth, about 2 minutes, then push through a fine sieve to remove any lumps. Add to small glass cups (yields enough for 6) and refrigerate at least 6 hours. Garnish with the remaining jam and fresh blueberries.
Yields 6 panna cottas.