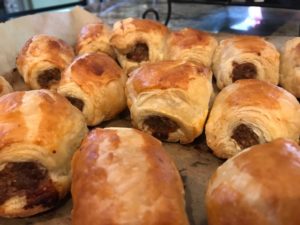 My guy is Dutch and every time we go to Holland (okay, The Netherlands), the one food item he has to have right away is a warm Dutch sausage bread, also known as Saucijzenbroodjes in Dutch. Every bakery and grocery store there sells Saucijzenbroodjes and they're just as the name sounds – sausage stuffed into bread. My Mother-In-Law's boyfriend usually brings a brown bag full of them each morning and it's a quick way to get my hubby out of bed.
I've been looking for a recipe for Dutch Sausage Bread and didn't want to have to make my own dough, so found a recipe that uses puff pastry. The sausage mix comes together very quickly – think meatballs – and gets shaped in long meat "snakes" that are then rolled in the defrosted puff pastry and baked.
These Saucijzenbroodjes reheat really well in the oven or, as we do, in the toaster oven for a quick breakfast. After baking them, I let them cool completely then place in storage containers in the fridge for up to 5 days.
Dutch Sausage Bread would be great when family is in town for the holidays as you could make them a couple days in advance and simply reheat them in the morning.
Ingredients
1 pound lean ground beef
1 large egg
2 Tbsp. milk
1 tsp. salt
1/8 tsp. nutmeg
½ tsp. freshly ground pepper
½ cup panko bread crumbs
1 tsp. Worcestershire sauce
4 sheets puff pastry, thawed (I use two 17.3-ounce boxes of Pepperidge Farm Puff Pastry Sheets).
1 egg yolk
1 tsp. milk
Directions:
Preheat oven to 400° F. Line two baking sheets with parchment paper, set aside.
Carefully unfold the pastry sheets. Lengthwise, cut each rectangular sheet in half to create 8 separate sheets (see photo).
In a medium mixing bowl, combine first 8 ingredients – don't overmix to keep the mixture tender and moist. Divide into 8 equal portions.
Roll each of the 8 portions of meat into long snakes and place across the middle of each of the 8 puff pastry rectangles (see photo). Fold each pastry sheet around its meat "sausage" and, using wet fingers, pinch the top and bottom edges together, enclosing the sausage. Note that if you end up with excess pastry when you pinch both ends, you can cut some off (I had to do this). Cut each of the 8 rolls into 4 equal sized portions, for a total of 32 sausage breads.
Beat egg yolk with milk and brush egg mixture over the breads.
Place the sausage breads onto the parchment-lined baking sheets and bake for 20-25 minutes or until pastry is crisp and golden brown (mine took 25 minutes).
Adapted from this recipe.