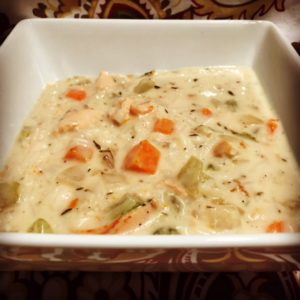 Creamy chicken and rice soup has been a favorite of mine since my youth going to St Hubert restaurant in Quebec. St Hubert is a popular restaurant chain and the rice and creamy chicken soup it makes is pure comfort in a bowl.
This week as I was prepping for my pot of Sunday soup, I decided to make my typical chicken soup, creamy. Then I decided to replace the hand-cut spaghetti (popular at my home) with the rice from a boil-in bag. The result – velvety texture, big chicken flavor and hearty enough to almost use a fork to eat!
The "Short Cut" Part
I had leftover cooked chicken and homemade chicken broth in the freezer so I used that, but you could poach your own chicken to use or simply buy a rotisserie chicken at the grocery store and grab store-bought broth. I'm a big believer in taking shortcuts in the kitchen, especially when they result in the heaven-in-a-bowl that is this Creamy Chicken and Rice Soup.
Ingredients
4 Tbsp. vegetable oil
1 small yellow onion, diced
2 medium-large carrots, diced
3 stalks celery, diced
1 garlic clove, minced
6 cups low-sodium chicken broth
½ tsp. each dried thyme and sage
1 tsp. each salt and pepper
2 cups diced roasted chicken
1 cup heavy cream
3 tsp. corn starch diluted into ½ cup cold water
1 Uncle Ben's Boil-In Bag rice packet, uncooked OR 2 cups cooked long grain rice
Directions
In a large pot over medium-high heat, warm the oil. Add the onion, carrot, celery and sauté until tender, about 10 minutes, stirring frequently. Add the garlic and cook an additional minute.
Add chicken broth, thyme, sage, salt, black pepper and chicken and cook for 10 more minutes.
Add the cream and bring the soup to a simmer. Add the corn starch mixture and stir for 2 minutes until the soup has thickened.
Add the uncooked rice, lower heat to medium-low and cook 15 more minutes. If using cooked rice, reduce the cooking time for 2 minutes.
Serves 6 generously.