On December 6th, learn how to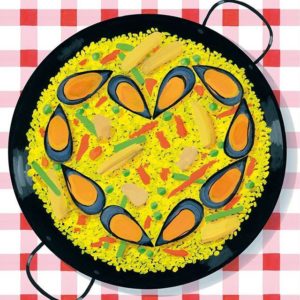 make Spain's national dish, Paella at Denville Meat Shop. This dish is a blend of ingredients and flavors from the sea and land that is great for any season and the best thing of all – it's a one-pot dish.
Our Chef answer all of your questions and will demonstrate and walk you through SIMPLE step by step processes to get you cooking healthier and economically. Bring some wine and enjoy your class!!! Don't be afraid of cooking Paella again.
RSVP with deposit, minimum 10 signups to hold class. Chef Jeff will then prepare dinner, Paella!!!!!!!!!!
Class fee is $45 which includes demonstration and dinner.
Class Time: 7:00pm-9:00pm Wednesday December 6, 2017.
Dinner will be served family style. Recipes will not be distributed so please bring the necessary instruments if you wish to record the lesson or recipes.
For info about this class and others coming up and for reservations details: http://denvillemeatshop.com/paella-spains-national-dish-1262017
Cheers,
Veronique