At the end of every month, I select 3-5 wines that were standouts throughout the month and share tasting notes with you. Here are some of the November wines I enjoyed.
2015 Alain Graillot Crozes-Hermitage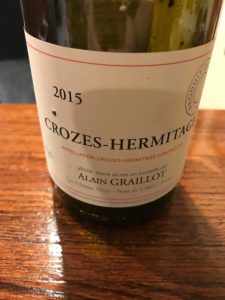 This young wine was inky purple/red in the glass with dark berry aromas and hints of pepper and wet soil. It was medium to full-bodied with more dark fruit on the palate along with great acidity and firm tannins that will soften with some age in the bottle. We had this with a variety of grilled meats and it was a solid pairing.
It's young but full of promise!
$31
100% Syrah
Rhone Valley, France
2014 Jonata Todos Red Blend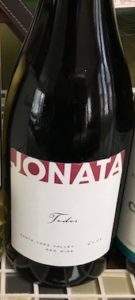 Another beauty from the team at Jonata proving once again that Matt Dees is one of the most talented winemakers in the central coast. This is a blend of the 11 varieties grown at the property. Mental note to add to my limited allocation next year.
Lovely aromas of cherry and raspberry with tobacco, leather and spiced notes. Ripe red fruit on the palate with cherry, raspberry, vanilla and chocolate notes. Great structure, velvety mouth-feel, smooth tannins. Medium finish with great minerality.
$50
Red Bordeaux Blend (Syrah/Shiraz, Sangiovese, Cabernet Sauvignon, Viognier, Cabernet Franc).
Santa Ynez Valley, California
2016 Ravines Ayre White Wine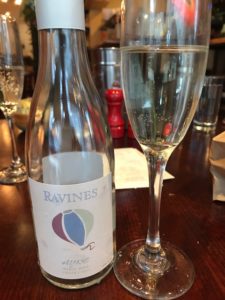 Seems Ravines can do no wrong and Ayre is no exception. It's an enjoyable semi-dry wine made from Valvin Muscat. This varietal is a French-American hybrid grape developed by Cornell University.
In the glass, the color is very pale yellow. On the nose, it's very floral with a bit of sweetness. In the mouth, it's sweet but with great acidy that help balance the wine. Nice peach, pear and sweet citrus flavors. There's a good amount of carbonation in the half bottle format Ayre.
$10
Valvin Muscat
Finger Lakes, New York
2015 Norman Hardie Unfiltered Pinot Noir, Niagara Peninsula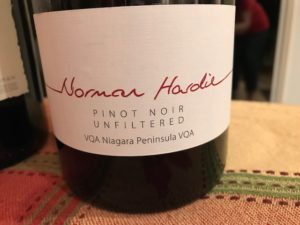 I hosted a dinner party where I needed to pour some top Canadian wines and since the Norman Hardie Pinots come so highly-rated, I decided to order a few bottles of the 2015, a great year in the Niagara Peninsula.
In the glass, the wine is medium purple/red and just slightly opaque. There are big red fruit aromas and flavors with earthy notes that were right up my alley. The wine has nice acidity, round tanning and a medium, velvety finish. Very Burgundian in style.
This is a well-made, refined Pinot that's easy drinking now but would be at another level with some age.
$35
Pinot Noir
Niagara Peninsula, Canada
Happy tasting,
Veronique