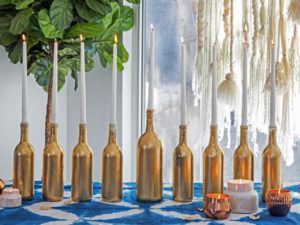 The Jewish Festival of Lights calls for Kosher wine for many families. There are numerous Kosher wines available in the U.S. market but many are simply not great. This makes selecting the 'right' bottle intimidating because who wants to celebrate over bad wine?
Here are eight Kosher wines to uncork on the eight days of Hanukkah.
2016 Segal's Fusion Dry Red Wine ($13 –Israel) – Very round wine from 60% Merlot with good fruitiness and a bit of spiciness.
2013 Galil Mountain Pinot Noir ($17 – Israel) – Smooth, velvety mouthfeel on this Pinot Noir with flavors of ripe berries/cherries and mocha notes.
Gilgal Brut ($18 –Israel) – A medium-bodied dry sparkling wine with lemon and green apple flavors that's ideal to kick start any special get-together.
2013 Tabor Adama Cabernet Sauvignon ($18 – Israel) – Blackberry and ripe raspberry flavors on this medium to full-bodied wine. Great pairing for roasted duck or lamb.
2014 Yarden Odem Chardonnay ($19 – Israel) – Complex, well-balanced wine with floral, fruity flavors with just a hint of buttery oak.
2015 Herzog Late Harvest Riesling ($20 – California) – Golden orangey colored in the glass, this wine has butterscotch and honey flavors.
2016 Yatir Rose ($22 – Israel) – Perfect light wine to sip as an aperitif and with light hors d'oeuvres.
2014 Flam Reserve Syrah ($41 –Israel) – Full-bodied wine with fresh fruity flavors perfect paired with grilled meats.
Happy holidays,
Veronique