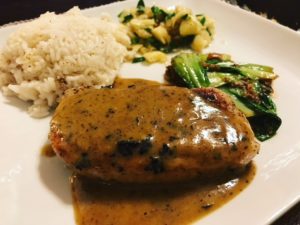 My hubby fixed our Blue Apron dinner last night and our dish, pork chop with miso butter sauce was outstanding. What made the dish was the rich, slightly salty, umami-packed miso butter sauce. It would go great with steaks or chicken or vegetables or just about anything.
Ingredients:
3 Tbsp. sweet white miso paste
1 Tbsp. soy glaze
1/2 cup water
2 Tbsp. butter
Directions:
Whisk the first 3 ingredients in a bowl.
Add sauce to a sauté pan (even better if you just cooked your protein in the pan and there's fond leftover) over medium heat and cook for 30 seconds, whisking constantly.
Turn off the heat, add the butter and whisk for another 30 seconds. Season with salt and pepper.
Yields enough sauce for two entrees.
Cheers,
Veronique