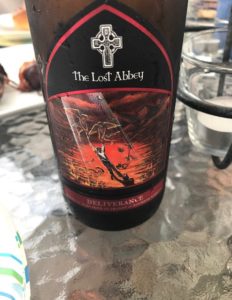 The Lost Abbey Deliverance beer is a blend of bourbon barrel-aged Serpent's Stout and brandy barrel-aged Angels Share.
Appearance: Nearly black with small dark tan head.
Smell: Boozy bourbon and dark fruit aromas with vanilla and licorice notes.
Taste: Chocolate-covered cherries, oak, bourbon.
Mouthfeel: Thick, mouth-coating texture.
Overall: Bourbon and brandy marry beautifully yet this sipper isn't overly boozy a beer. Bittersweet medium finish that had me wanting more. I love these dark, broody beers and hope I can find this gem of a beer again locally.
Brewed by: Port Brewing Company / The Lost Abbey, San Marcos, CA, USA
Style: American Strong Ale
Alcohol by Volume (ABV): 13.5%
Format(s): corked 12.5 ounce bottle
Cheers,
Veronique