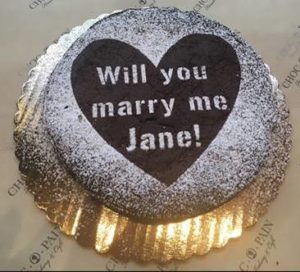 Leave it to Choc O Pain to take Valentine's Day to the next level with a custom cake!
Looking for a fun and creative way to propose or declare your love this Valentine's Day? Food lovers can now present their sweetheart with Choc O Pain's super decadent flourless chocolate cake for two, customized to say I Love You . . . or Will You Marry Me . . . with your significant other's name/nickname.
The cakes are available at all locations and orders must be placed by February 11. Each cake serves two and is $18 +$5 for custom stencil (5 letter max).
Choc•O•Pain
330-332 Palisade Avenue, Jersey City, NJ / 201-420-7111
157 First Street, Hoboken, NJ / 201-710-5175
530 Jersey Avenue, Jersey City NJ / 201-435-2462
Coming Soon: 1500 Hudson Street, Hoboken, NJ / 201-683-3300