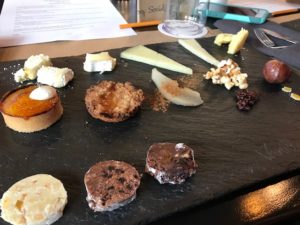 I attended a cheese tasting and pairings class at Vanillamore a few weeks ago and loved the experience. Students sat at the horseshoe-shaped counter and learned about cheese and sweets pairings from cheese meister, Marie Fromage (aka Mary Connolly).
I recapped the whole experience for Jersey Bites and you can view it here.
See class listing for all happenings at Vanillamore. (Note that Marie Fromage is hosting another cheese class at Vanillamore in June).
Vanillamore
349 Bloomfield Avenue
Montclair, NJ
Cheers,
Veronique