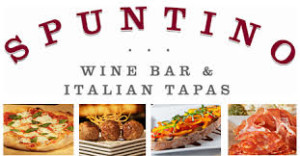 Spuntino Wine Bar & Italian Tapas will offer a special Foods and Wines of Venice menu at its Clifton Commons location in Clifton, NJ. This menu will be available from January 27 through February 10.
Amazing wines will be paired with specialty dishes hand-crafted by Executive Chef Josh Bernstein.
Foods and Wines of Venice Menu:
SCALLOP CEVICHE BRUSCHETTA – Mint pesto, golden raisins, pine nuts red pepper and red onion.
Paired with a Bisol 'Jeio' Prosecco.
BEFF CARPACCIO – Lemon thyme aioli, baby arugula, capers, Maldon salt, shaved Pecorino Romano. Paired with a 2013 Filippi Castelcerino Soave Classico.
RISOTTO DI MARI – Vialone nano rice, shrimp, sea bream, mascarpone, Pecorino Romano, fresh herbs. Paired with a 2012 Bertani Valpolicella.
BRAISED BEEF CHEEKS – Slow-braised with Asiago polenta, fried Brussels sprout leaves.
Paired with a 2013 Zenato Alanera Baby Amarone.
TIRAMISU – Espresso-dipped lady fingers, house-made tiramisu, cocoa powder.
Paired with a Volpaia Vin Santo.
The tasting menu is $45 per person, or $65 per person including wine pairings. Menu items are also available a la carte, and the full menu and link to make reservations are available at www.SpuntinoWineBar.com.

Albert Bichot Wine Dinner – January 28
On January 28, the restaurant will host its Albert Bichot Wine Dinner, starring wines from the French wine region of Burgundy. The wines will be paired with a complementary five-course tapas-style tasting menu developed by Chef Bernstein, including dishes such as Crab Cake – upland cress, whole grain mustard, Berkshire Pork Cheek – asiago polenta, fried sprout leaves, and Old Chatham Camembert – black fruit compote.
Tickets to the wine dinner are $89 per person and can be purchased on the website, www.spuntinowinebar.com/albert-bichot-wine-dinner-clifton.
70 Kingsland Road, Clifton, NJ 07014. Tel: (973) 661-2435.
Cheers,
Veronique