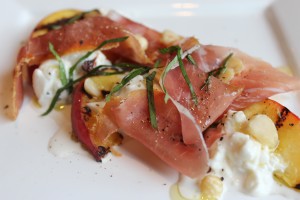 Spuntino Wine Bar & Italian Tapas celebrates National Peach Month with some outstanding food and drinks specials taking advantage of the peak of peach season. One of the specials Executive Chef Josh Bernstein is showcasing is Grilled Peach & Burrata – fresh local grilled peaches, local burrata, Prosciutto di Parma, hazelnuts, basil, honey with extra virgin olive oil. Grilling the peaches caramelizes the sugars in the fruit, deepening the sweetness, while the burrata provides a creamy base balanced with a bit of crunch from the hazelnuts on top. Basil and honey lend a complementary note the sweetness of the peach, rounding out the dish.
Chef Bernstein shared his recipe with me, and I'm sharing it with you:
Ingredients
1/2 peach, cut in 6 slices and grilled
2 oz. burrata
2 slices prosciutto
1 tsp hazelnuts, toasted and chopped
1 tsp honey
1 tsp extra virgin olive oil
1 tsp basil, chiffonade
1/4 tsp Maldon sea salt
1/4 tsp cracked black pepper
Method
Arrange grilled peaches on a large square plate in a diagonal line.
Spoon burrata on top and in between peaches. Drape prosciutto on top.
Sprinkle chopped hazelnut on top of the burrata.
Drizzle with honey and olive oil.
Garnish with basil, Maldon salt and cracked black pepper.
If you prefer to visit Spuntino for this and other specials, the popular restaurant is located at: 70 Kingsland Road
Clifton, NJ 07014.
Cheers,
Veronique