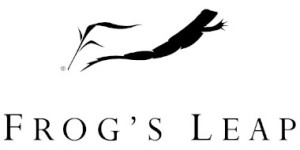 Spuntino Wine Bar & Italian Tapas is hosting a Frog's Leap Wine Dinner at its location in the Clifton Commons on Thursday, October 29 at 7:00 p.m.
The evening will highlight wines produced by Frog's Leap Winery, grown organically since 1988. The wines will be paired with a complementary five-course menu developed by Executive Chef Josh Bernstein, which includes:
FOIE GRAS BUDINO – Roasted fig, Sauvignon Blanc wine gelee. Paired with a 2014 Sauvignon Blanc.
KABOCHA SQUASH RAVIOLLO – Browned butter, black trumpet mushrooms, hazelnuts, sage. Paired with a 2013 Chardonnay.
PAN ROASTED CHILEAN SEA BASS – Duck confit, parsnips, savoy cabbage, beet coulis. Paired with a 2013 Zinfandel.
DRY AGED RIB EYE – 28-day dry aged rib eye, grilled trumpet mushrooms, carrot puree, cocoa demi. Paired with a 2012 Cabernet Sauvignon.
PEAR AND GORGONZOLA STRUDEL – Walnuts, honey, vanilla gelato, Merlot Vincotto. Paired with a 2012 Merlot.
Tickets for the Frog's Leap Wine Dinner, which has limited seating, can be purchased in advance for a cost of $99/person by clicking here, where the full menu along with wine tasting notes can also be viewed.
For more information, visit www.SpuntinoWineBar.com or at Facebook.
Cheers,
Veronique