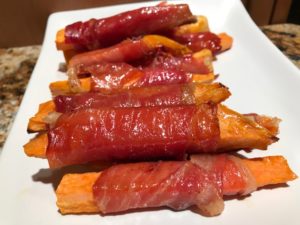 Prosciutto Wrapped Maple Sweet Potatoes – come on, that sounds so good!
I'm from Quebec so my side dishes often feature maple syrup. It's just a perfect ingredient, that's great in both sweet and savory dishes and I use it frequently.
When I was asked to bring a Thanksgiving side dish recently, I wanted to do sweet potatoes, but not the traditional oversweet version with marshmallow topping that very few people actually like (in my circle anyways). This recipe is perfect as it still features the traditional sweet potatoes but they're in finger food size in fries wrapped in salty prosciutto then glazed with maple syrup. There's nothing to NOT like here folks.
The sweet potatoes will be in various size so aim to get to around 24 'fries'. If that means less than four potatoes, do less or add more prosciutto and do more fries!
Cooking for a crowd, double the recipe!
Ingredients:
4 long medium-size sweet potatoes, peeled and cut into 24 fries/wedges
1 Tbsp. vegetable oil
Sprinkling of salt and pepper
6-8 ounces thinly-sliced Prosciutto
¼ cup maple syrup
1 tsp. ground cinnamon
¼ tsp. cayenne pepper
Directions:
Preheat the oven to 425 degrees F. Line two large rimmed baking sheets with parchment paper.
Place the sweet potato fries in a large bowl and drizzle them with oil. Sprinkle generously with salt and pepper, then toss to coat.
Cut the Prosciutto pieces into two long strips. Wrap one Prosciutto strip around each potato fry, tucking the ends under the bottom. Bake for 20 minutes.
In a small bowl, whisk together the maple syrup, cinnamon and cayenne pepper. Set aside.
Brush the maple syrup mixture over the potato fries and bake an additional 5 minutes. Serve warm, or at room temperature.
Inspired from this recipe.