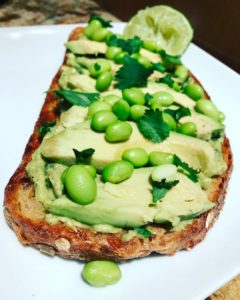 This is the second post in my new series called "Not Really a Recipe". These will be non-recipe posts that just give ideas on how to fix meals that are tasty and require very little work.
This dish is perfect for lunch, brunch or cut into slices for an appetizer. The dish is made using grain-filled bread that's buttered and lightly toasted then topped with my Zesty Guacamole recipe, slices of avocado, cilantro leaves and edamame. Right before serving, I squeeze some lime juice on. Simple to make and boasting big, perfect flavors.
Let me know if you try this!
Cheers,
Veronique