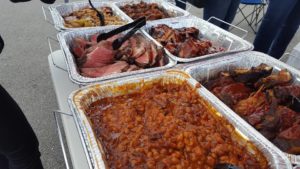 I've written about Denville Meat Shop (see past post here) in the past and how amazing it is on all levels: to-go foods, meats, service, classes, etc….the past weekend, I was privy to its delicious, meaty catering via a tailgate party at MetLife Stadium.
The private tailgate party served about 15 of us with lots of leftovers. Denville Meat Shop owner, Jeff Orel, personally manned the grill, which was a treat, and served a variety of meats: ribs, brisket, steak, pulled pork, sausages, hot dogs and burgers. There was also potato salad and coleslaw. Note that the package of store-bought cookies and the bags of burger and hot dog buns in the photos were brought by me and NOT short cuts by Orel.
Not sure how this was possible, but the brisket was perfectly tender and juicy, not an easy thing to do via catering. The ribs were meaty and flavorful; the burger meat with bacon-packed; the hot dogs snappy and some of the best I've had; the steak was expertly-grilled and med-rare; the pulled pork was juicy with great porky flavors.
Denville Meat Shop offers tailgating packages, so don't feel like this amazing lineup can't happen to you too! Orel also offers a variety of catering options and even 'rents' himself out as a chef for private events – he was, after all, an executive chef before opening the shop.
Just a great experience with some amazing foods that my group is still talking about!
Denville Meat Shop – 28 Diamond Spring Rd, Denville, New Jersey 07866.
Cheers,
Veronique