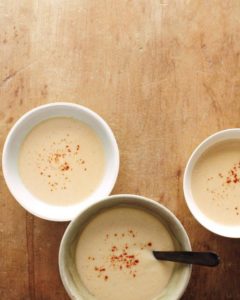 Rich, comforting, decadent…just some words to describe this cheesy soup. To take this soup from starter to entree, I sometimes serve it with a bacon grilled cheese…can there ever be too much cheese?
Ingredients:
1/4 cup (1/2 stick) butter
1 large onion, chopped
2 celery stalks, chopped
2 garlic cloves, minced
1/4 cup all-purpose flour
1/2 tsp. paprika
1/4 tsp. cayenne pepper
4 cups chicken broth
1 1/2 cups half and half (or light cream)
2 1/2 cups white Vermont cheddar cheese, grated (10 ounces)
1/2 tsp. Worcestershire sauce
Dash Tabasco
1/4 cup parsley
Directions:
Melt butter in a heavy saucepan over medium-high heat.
Add onions, celery and garlic and sauté 5 minutes.
Mix in flour, paprika, and cayenne pepper and cook, stirring frequently, for 3 minutes.
Gradually stir in broth, bring to a simmer and cook for 2 minutes, stirring frequently. Reduce heat to medium-low, cover and simmer 15 minutes.
Using a stick blender or standard blender, purée the soup until completely smooth.
Add half and half to soup and bring to a simmer over medium heat.
Add cheese 1/2 cup at a time, stirring until cheese melts after each additions.
Add Worcestershire sauce, Tabasco and parsley.
Season to taste with salt and pepper.
Yields 6 Servings.