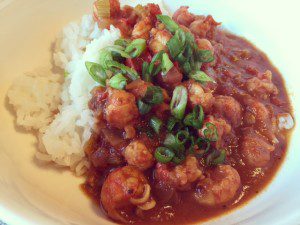 According to Wikipedia, Mardi Gras, also called Fat Tuesday, refers to events of the Carnival celebrations, beginning on or after the Christian feasts of the Epiphany (Three Kings Day) and culminating on the day before Ash Wednesday. Mardi Gras is French for "Fat Tuesday", reflecting the practice of the last night of eating richer, fatty foods before the ritual fasting of the Lenten season.
I've always liked Mardi Gras. When I was a young child in Canada, my grandma used to dress my sister and me up in costumes and take us trick or treating on her street. Back then, kids dressed up just like for Halloween and collected treats.
Now that I'm an adult, the holiday is still centered on treats, in the form of actual food and I don't miss a chance to celebrate with New Orleans-worthy dishes. Here are some of my top dishes for Mardi Gras celebrations.
Laissez les bons temps rouler!
Veronique