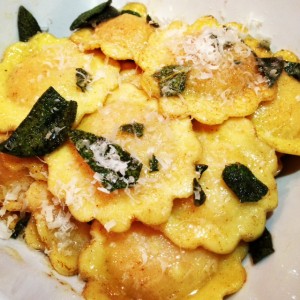 Last week I stopped at Eataly in Manhattan with some friends visiting from Florida. The place is a Mecca of all things Italian and I couldn't pass up the pasta counter and the super cute butternut squash ravioli as I knew I'd be in a hurry to fix dinner for all of us when we returned to the burbs.
Well, dinner didn't happen as we lunched at Barbuto and it was a feast and we simply weren't hungry for dinner, so I made a quick lunch of the ravioli yesterday and the photo I took of that pasta had everyone liking and sharing on Facebook, Instagram and Twitter.
I couldn't understand why folks would like this particular dish, yes, I can make my own ravioli, but what I didn't grasp until later in the day is that so many of us who work longs days just crave delicious, elegant and simple to make meals during the week, albeit semi-homemade. Fair enough, here are the simple steps to making this pretty meal.
Ingredients:
½ pound fresh ravioli (I used butternut squash as I love that in the winter)
½ stick (4 Tbsp.) butter
1 Tbsp. roughly chopped fresh sage
¼ cup Pecorino or Parmesan cheese
Directions:
Boil the pasta according to package directions, drain.
In a medium skillet, melt the butter over medium heat. Cook the butter until brown and nutty in aroma, about 90 seconds.
Add the sage to the brown butter, turn heat off, add the ravioli and shake the pan to coat the pasta in brown butter.
Plate the ravioli and sprinkle with Pecorino or Parmesan.
Serves one famished dinner.