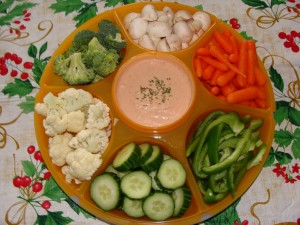 Every year, I feature some maple recipes at the start of maple season in Quebec. I have fond memories of going to the sugar shack growing up and each year, I engage my family and friends in sharing maple recipes with me for the blog. This one is from my aunt, Francoise.
Ingredients:
1 cup tomato catsup
1 cup vegetable oil
½ cup maple syrup
1 Tbsp. dry mustard
1 celery stalk, diced
1 medium onion, diced
1 garlic clove, minced
2 Tbsp. green relish
2 Tbsp. lemon juice
1 Tbsp. flat leaf parsley, chopped
Directions :
Put all the ingredients in a blender and process for 1 minute, or until smooth.
Refrigerate for at least an hour or overnight – the dip will thicken as it sits in the fridge.
Makes about 2 ½ cups.