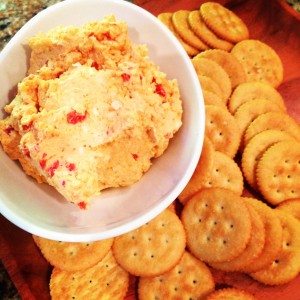 Through my travels, I've gotten addicted to southern foods and one dish I'd been wanting to make at home for a while is pimento cheese. The southern favorite couldn't be simpler to make – throw all the ingredients in a bowl and stir!
The dip is great as a starter with crackers or veggies but also super as a burger topper or sandwich spread – pimento cheese BLT anyone?!
Ingredients:
8 ounces cream cheese, softened
2 cups extra sharp (of just sharp) cheddar cheese, grated
½ cup mayonnaise
1 tsp. red wine vinegar
4-ounce jar pimento peppers (in water), drained and chopped
½ tsp. each onion powder, garlic powder, paprika
4 dashes (about ½ tsp.) hot sauce
Directions:
Combine the ingredient in a medium bowl using an electric mixer until mostly smooth, about 1 minute.
Refrigerate until ready to serve, letting the dip come to room temperature for about 15 minutes.
Serve with crackers or cut vegetables.
Makes about 2 cups.
Inspired by this recipe.