Last week, my Bracco Farms CSA was beautifully filled with various eggplants. I love eggplants but don't cook many meals with them besides the old eggplant parmesan favorite.
While looking at delicious-looking photos of eggplants on Pinterest (are we connected there?), I found this uber simple yet delicious recipe that will now become part of my repertoire.
Ingredients:
1 medium eggplant
2 Tbsp. olive oil for brushing
Salt and pepper to taste
¼ cup Greek yogurt
1 Tbsp. Extra virgin olive oil
1 garlic clove, finely minced
¼ tsp. ground cumin
½ tsp. each salt and pepper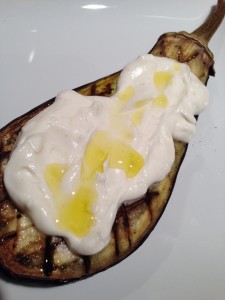 Directions:
Preheat oven to 375 degrees.
Slice the eggplant lengthways. Using a sharp paring knife, score the cut side of the eggplant in a diagonal crisscross pattern – don't cut though skin.
Place the eggplant halves, skin side down, on a baking sheet and brush the scored sides with olive oil. Sprinkle with salt and pepper and roast for 35 minutes or until nicely browned.
While the eggplant is roasting, combine the remaining ingredients in a small bowl, adjusting the seasonings to taste. Refrigerate until ready to use.
Plate the roasted eggplant halves and spoon dipping sauce on them. A drizzle of extra virgin olive oil can also be added, but is optional.
Makes 2 starters or 1 entrée.
(Inspired by this recipe).