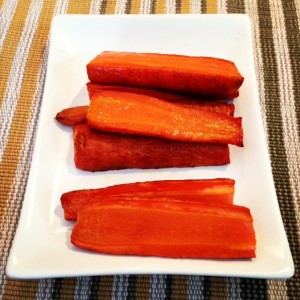 I just love roasting vegetables in the winter months to serve as a side dish with various foods, or on their own as a complete meal. Just drizzle a little oil, sprinkle S&P and roast!
In this case, large carrots are cut in half long ways and roasted until the natural sugars caramelize and create a slightly sticky coating that's delicious.
Ingredients:
4 giant carrots, cut in half then halved long ways
¼ cup olive oil
½ tsp. each salt and pepper
Directions:
Add the carrots to a baking sheet and drizzle with oil and sprinkle with salt and pepper. Toss to coat the carrots then roast, cut side down, in a 350 degree oven for 30 minutes or until tender.
4 side servings.