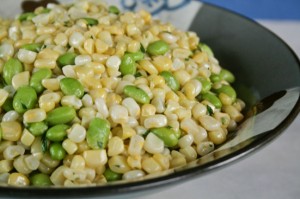 In New Jersey, we have some of the best corn to be found anywhere. Farm stands and various stores offer sweet Jersey corn from late summer into the fall and I enjoy finding new ways to savor it.
One new way used farm-fresh corn this weekend was by making an easy succotash with lima beans, basil and bacon (can omit bacon if going meatless). The dish can be made the day before serving and simply reheated.
Ingredients:
¼ pound slab bacon, roughly chopped
½ medium Spanish onion, chopped
2 garlic cloves, finely chopped
4 ears of corn, kernels cut off
1 large jalapeno pepper, seeded and finely chopped
1 (10-oz) package of frozen baby lima beans, thawed
2 Tbsp. sherry vinegar
¼ cup chopped basil
½ tsp. each salt and pepper
Directions:
In a large frying pan, cook the bacon over medium heat until crisp, about 4 minutes. Keeping the fat in the frying pan, drain the bacon on paper towels and reserve for later use.
To the bacon fat in the frying pan, add the onion and cook over medium heat until softened, about 5 minutes. Add the garlic and cook for an additional minute. Add the corn, jalapeno and lima beans and cook until vegetables are tender, about 7 minutes, stirring occasionally. Stir in vinegar, basil, and salt and pepper. At this point, the succotash can be stored in an air-tight container in the refrigerator for a day.
Serve succotash with crispy bacon.
Makes about 3 cups.
Note: To make this dish meatless, simply omit the bacon and sauté the vegetables in 3 tablespoons of vegetable oil.