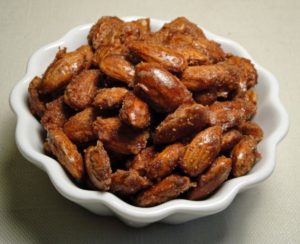 Day 5 of my 12 Days of Christmas Baking compilation.
Warning – these nuts are uber addicting!!
I took an old recipe and gave it a Quebec twist by adding maple syrup. Double or triple the recipe for holiday gift giving or host(ess) presents. You could also double the recipe and eat them all yourself while lying on the couch watching Netflix…not that I'd know anything about that.
Ingredients:
2 Tbsp. butter
2 Tbsp. brown sugar
2 Tbsp. maple syrup
2 cups of skin-on almonds, not salted (could use other nuts)
Directions:
In a medium saucepan, melt the butter over medium heat. Add the brown sugar and the maple syrup and bring to a boil, stirring frequently. Shut off the heat, add the almonds and stir to coat them in the maple mixture.
Preheat oven to 350 degrees.
Pour the almond mixture onto a baking sheet lined with parchment paper. Bake for 10 minutes. Allow the almonds to cool completely prior to storing in an air-tight container.
The almonds can be stored for up to a week at room temperature, in an air-tight container (not that they'll last that long).
Makes 2 cups of nuts.