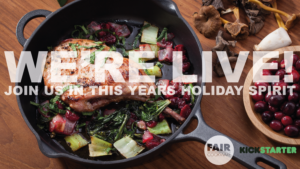 On December 1, FAIR CookwareTM will be launching a Kickstarter project, utilizing crowdsourcing to help bring cast iron skillets to your local food banks. The Christmas spirit project aims to provide 350,000 high-quality and competitively-priced cast iron skillets to both consumers and people struggling with everyday essentials, based on a 'buy one, give one' philosophy.
FAIR Cookware skillets are based on good value for money with four different models – 8.5'', 10.5'', 12.5'' and a grill pan (10.5") – you can prepare almost anything in these classic and durable pans. The skillets are sampled and tested to ensure the highest standards, pre-seasoned and have a very high heat capacity. They can be used virtually any heat source.
For every skillet purchased, the backer will donate the exact same one to someone in need.
More than 46 million people in the U.S. rely on food banks and food pantries. FAIR Cookware contributes to the fight against hunger with their Care for Hunger project, helping America's local hungry during the holiday season by providing items that are essential to daily life.
You can support FAIR Cookware on their Kickstarter page on December 1st; starting at $15 for a donation and $59 for the Early Bird adopters. For more information, please visit FAIR CookwareTM on Faircookware.com.
Cheers,
Veronique