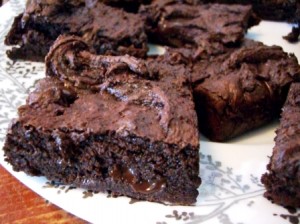 At my place of employment (my work that pays the bills), there is a mad rush at the end of each month to ship as much merchandise as possible to boost up our revenue dollars. The team of guys who pull the equipment off the shelves, pack it and ship it, work hard to make sure commitments are met. Since I cannot help with the physical things they do, I always bake the guys something to give them the extra rush they need to get the job done. This month, the treats are these decadent brownies.
Ingredients:
1 stick (8 Tbsp.) butter
4 ounces unsweetened chocolate, chopped
½ cup good quality cocoa powder ( I use Ghirardelli Unsweetened Cocoa Powder)
¾ cup all-purpose flour
½ tsp. baking powder
¼ tsp. salt
3 large eggs
1 ½ cups granulated sugar
1 Tbsp. pure vanilla extract
1 cup semi-sweet chocolate chips
Directions:
Preheat the oven to 350°F. Coat an 8×8-inch baking dish with cooking spray.
In a microwaveable bowl, melt the butter for 30 seconds. Add the unsweetened chocolate and the cocoa powder and microwave for one minute, stirring after 30 seconds. If the chocolate is not fully melted, cook for an additional 30 seconds. Set aside.
Sift the flour, baking powder and salt in a medium bowl. Set aside.
In the bowl of an electric mixer, beat the eggs and sugar on medium speed until thick and pale yellow, about 5 minutes.
Add the melted chocolate and the vanilla to the egg mixture and beat for one minute. Add the flour and beat for 15 seconds, until just incorporated. Add the chocolate chips and stir by hand to combine.
Pour the brownie batter in the prepared pan and bake for 40 – 45 minutes, until brownies are set but still a bit moist in the center of the pan. Allow to cool completely before cutting into squares.
Makes 16 brownie squares.