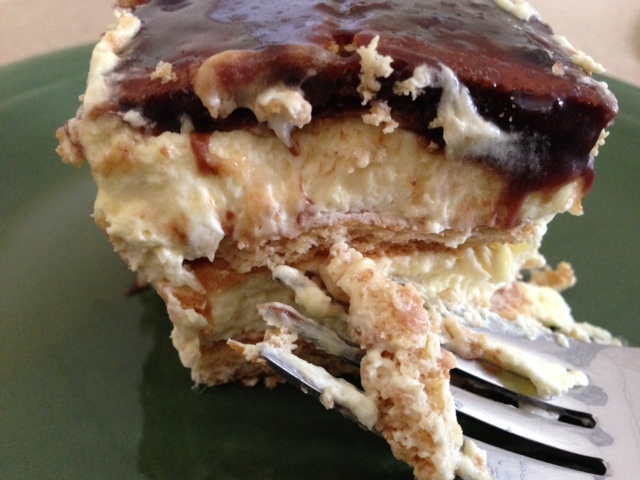 Gooey éclair yumminess that you can eat with a fork!? Brilliant. Don't feel like making pudding and whipped cream from scratch, no issues, just take a look at the "notes" section for shortcuts.
Pudding Mixture Ingredients:
2 cups milk
1/2 cup white sugar
3 Tbsp. cornstarch
1/4 tsp. salt
1 tsp. pure vanilla extract
1 Tbsp. butter
2 cups of heavy or whipping cream
Chocolate Topping Ingredients:
1/3 cup cocoa
1 cup granulated sugar
1/4 cup milk
1 stick butter
1 tsp. pure vanilla extract
Assembly Ingredients:
1 – 14.5 ounce package of Graham crackers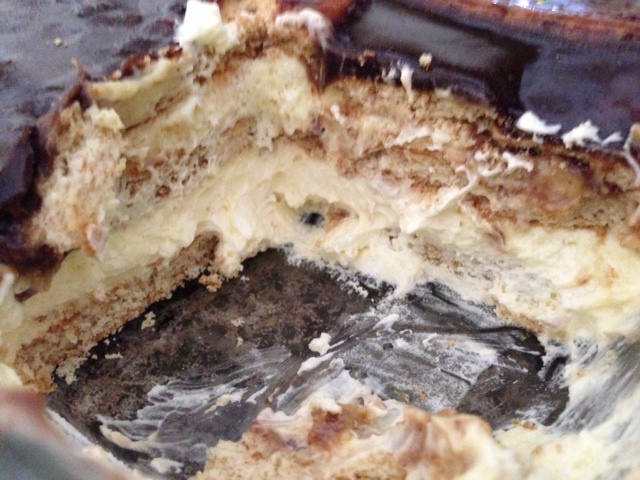 Pudding Mixture Directions:
Heat the milk in a medium saucepan over medium heat until it begins to simmer, about 2 minutes.
Combine the sugar, cornstarch and salt in a medium bowl. Add the sugar mixture to the hot milk stirring well until fully incorporated. Cook the milk mixture, stirring often, until thick enough to coat the back of a spoon, about 3-4 minutes. Don't allow to boil.
Remove the pudding from the stove and add the vanilla and butter.
Pour the pudding into a bowl, place a sheet of plastic wrap on the surface of the pudding and refrigerate for 30-60 minutes.
In the bowl of an electric mixer, whip the cream until stiff, about 4 minutes.
Gently fold the whipped cream with the pudding until fully homogenous.
Chocolate Topping Directions:
In a medium heavy saucepan, bring the cocoa, sugar and milk to a boil. Allow the mixture to boil for 1 minute, stirring constantly. Remove from the stove and cool for one minute.
Add the butter and vanilla to the chocolate mixture and stir until the butter is completely melted.
Assembly Directions:
Place Graham crackers in a single layer on the bottom of a 9" x 13″ pan. Break crackers as need to cover the surface.
Spoon and spread half of the pudding mixture over the Graham crackers. Add another layer of Graham crackers over the pudding then top with another layer of pudding then Graham crackers.
Pour chocolate mixture over the top layer of Graham crackers.
Refrigerate at least 12 hours.
Notes: If you want to skip a few steps, simply use two (3.5 ounce) boxes vanilla instant pudding mixed with 3 cups of milk to create the pudding then add a 12-ounce container or thawed whipped topping instead of whipping cream.
Makes 6-8 portions.