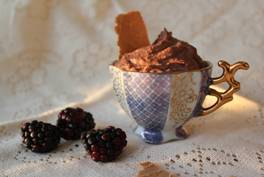 National Chocolate Mousse Day is today and thought I'd share a delicious, yet healthy, way to celebrate.  While traditional mousse and pudding recipes often require large amounts of whipping cream and butter (delicious in many instances), using tofu provides a healthier alternative that's still decadent in flavor.
Ingredients:
1 package 14 oz. House Foods Soft Tofu
¾ cup of semi-sweet chocolate chips
¼ cup of milk (can substitute coconut milk)
½ Tbsp. vanilla
1½ tsp. ground cinnamon
1 tsp. ground cardamom (optional)
Directions:
Open the tofu package and strain water.  Remove the tofu from package and pulse in blender until smooth, about 1 minute.
With the stove on low, melt the chocolate chips and milk in a pot, stirring until smooth, about 3-4 minutes.
Add the tofu to the chocolate mixture and stir until completely incorporated.  Stir in vanilla, cinnamon and cardamom, if using.
Quickly remove from heat and spoon in 4-6 individual cups.  Cool completely then refrigerate until it becomes thick like a mousse, about 2 hours.
Serves 4-6.
Notes:  Add your own personal twist to this recipe by considering some of the suggestions below:
Top the pudding with toasted slivered almonds or other nuts, coconut shavings, or cocoa powder
Replace the 1 tsp. ground cardamom with ½ tsp. chili powder for a spicy Mexican Chocolate Mousse
Add a little agave nectar for an even sweeter pudding