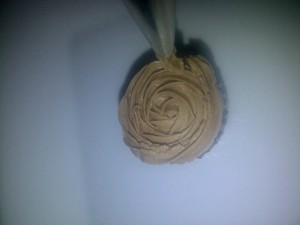 Nutella, the delectable chocolate and hazelnut spread, is a favorite in my family.  My sister and I grew up on the chocolaty elixir and we've found many ways to use it throughout the years.  One of my favorite use for Nutella is in frosting that can be used on cakes or cupcakes.
Ingredients:
2 sticks (1/2 cup) butter, softened
3/4 cup Nutella
1 cup confectioner's sugar
2 Tbsp. milk
Directions:
In the bowl of an electric mixer, cream the butter until light and fluffy, about 2 minutes.
Add the Nutella to the butter and beat to fully incorporate (resist the urge to stick your finger in for a taste).
On low speed, add the confectioner's sugar, and beat to combine, about 1 minute.
Add the milk, adding more if too stiff to use as frosting.
Makes about 2 cups.