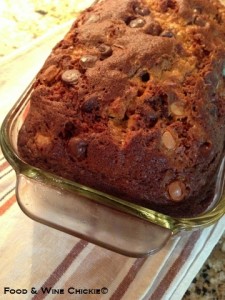 I'm not sure why, but seeing overripe bananas and having to toss them hurts me. I'm also not sure why, but spending $10 on ingredients required to make banana bread to save $0.50 worth of bananas doesn't bother me at all.
This banana bread is gilded with chocolate and butterscotch chips that give the plain version a major facelift. The resulting product is moist and chocolaty.
Ingredients:
¾ cup butterscotch chips
¾ cup miniature semisweet chocolate chips
1 ¾ cups all-purpose flour
1 ½ tsp. baking soda
¾  tsp. Kosher salt
3 large eggs, at room temperature and lightly beaten
¾ cup firmly packed light brown sugar
2/3 cup sugar
3 overripe bananas, mashed
2/3 cup vegetable oil
Directions:
Preheat the oven to 350 degrees. Butter or coat a 9-by-5 loaf pan with nonstick spray.
Combine the butterscotch and chocolate chips in a small bowl. Set 3 tablespoons of the mixture aside for later use.

Sift the flour, baking soda and salt in a medium bowl. Leaving the 3 tablespoon of chips out, add the remaining chips to the flour and toss to coat.

Using a wooden spoon, combine the eggs, brown sugar, sugar, banana and oil in a larger bowl. Add the dry ingredients to the banana mixture and combine gently making sure to not over-mix. Pour the batter into the prepared pan. Sprinkle the remaining chips on the surface of the batter.
Bake 60 minutes or just until a toothpick comes out mostly crumb-free when inserted in the center of the loaf. Cool on a rack for 30 minutes, then unmold and cool completely.
Notes: Bread may be stored at room temperature up to 3 days wrapped airtight in plastic wrap. May be frozen, well-wrapped, up to 1 month. Defrost overnight in the refrigerator.
Servings: 8
Adapted from this The Daily Meal recipe.