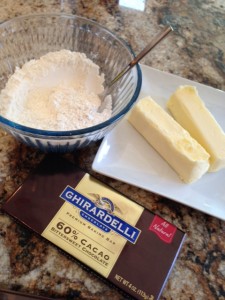 I've had these Ghirardelli dark chocolate bars in my pantry for two weeks and they've been calling my name to use them in something dark and decadent. While perusing Pinterest (one of my guilty pleasures), I saw a beautiful pound cake by OMGChocolateDesserts.com that I knew would be wonderful.
I wanted that deep, dark and rich chocolate flavor so I used the dark Ghirardelli chocolate I had on hand along with the cocoa powder by the same maker. The results are sooooo delish.
Cake Ingredients
1 cup flour
1 tsp. sea salt
2 ounces Ghirardelli dark chocolate (60% cocoa), chopped
1/3 cup boiling water
¾ cup Ghirardelli cocoa powder
2 sticks butter, softened
1 ¼ cups granulated sugar
5 large eggs
Ganache Ingredients
½ cup heavy cream
4 ounces Ghirardelli dark chocolate (60% cocoa), chopped
Cake Instructions
Coat a 9" x 5" loaf pan with cooking spray or butter. Preheat the oven to 325 degrees F.
Mix the flour and salt in a small bowl. Set aside.
Place the chopped chocolate in a heatproof bowl, pour boiling water over it and stir with a spoon until fully melted. Add the cocoa powder and stir until well incorporated. Set aside.
Cream the butter for 2 minutes using an electric mixer. Add the granulated sugar and mix for 1 minute. Add the reserved chocolate mixture and mix for another minute. Add the eggs, one at a time, mixing well after each addition. Add the flour mixture, a quarter cup at a time, until just blended – don't overmix.
Spread the batter in the prepared pan and bake for 6o-70 minutes, or until a toothpick inserted in the center of the cake comes out clean.
Allow the cake to cool for 5 minutes in the pan then unmold and cool completely.
Ganache Instructions
Heat the cream in the microwave for 1 minute.
Pour the hot cream over the chocolate in a small bowl and whisk until the mixture is uniform in color and has thickened. Allow the ganache to cool for 3 minutes then spread it over the cake
Serves 8.