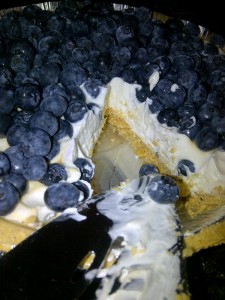 I typically try not to cut corners when I bake, but in a bind, like when I am on vacation and do not want to cut into my pool time, a store-bought Graham cracker crust is a suitable alternative to the real thing.
This easy pie can feature any berries that are in season. Using fresh fruit is pretty critical, but frozen whole berries that are properly thawed could be used when no fresh fruit is available.
Ingredients:
1 17.6-ounce container of plain Greek yogurt
8-ounce container of whipped cream cheese
Zest of ½ lime
¼ cup plus 1 tbsp. pure maple syrup
2 cups of blueberries
9-inch Graham cracker crust
Directions:
In a medium bowl, combine the Greek yogurt, the cream cheese, the lime zest and the ¼ cup maple syrup.  Set aside (can be made up to 4 hours prior to assembling the tart if kept refrigerated).
Poor the yogurt mixture over the cracker crust forming an even layer.  Gently add the blueberries over the yogurt layer and spread evenly to completely cover the yogurt. Drizzle the remaining maple syrup over the berries and refrigerate until ready to serve.
Serves 8.