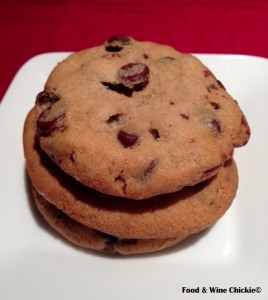 My tasting panel (ten warehouse workers at my office) really liked these chewy yet crispy cookies and the extra chocolate from the addition of chunks with the chips.
This recipe yields 32 cookies which can be a lot of you're only craving a quick dozen. The cookie dough can easily be divided and wrapped tightly in wax paper them aluminum foil and frozen for up to a month.
Ingredients:
3 cups all-purpose flour
1 ½ tsp. baking soda
1 ½ tsp. salt
2 sticks (1 cup) butter, softened
1 ½ cup light brown sugar
1 cup granulated sugar
3 large eggs
2 tsp. pure vanilla extract
1 ½ cup semisweet chocolate chips
1 ½ cup chocolate chunks
Directions:
Preheat oven to 375 degrees.
In a medium bowl, whisk the flour, baking soda and salt.
In the bowl of an electric mixer fitted with a paddle attachment, cream the butter, brown sugar and granulated sugar on high speed until light and fluffy, about 2 minutes.
Add the eggs to the butter mixture, beating well after each one, until fully combined, about 1 minute. Add the vanilla. With the mixer on low speed, add the flour mixture – do not over mix.  Add the chips and mix until just combined.
Line four cookie sheets with parchment paper (if you only have two cookie sheets, break up the baking in two phases making sure the cookie sheets cool completely from the first batch prior to doing the next). For each cookie, scoop one tablespoon of dough, place on a cookie sheet and flatten gently with the palm of your hand. Eight cookies will fit on each cookie sheet.
Bake, two sheets at a time, until golden, about 13 minutes. Allow the cookies to cool for 5 minutes on the cookie sheets then transfer cookies to a cooling rack to cool completely. Repeat the process with the last two cookie sheets.
Makes 32 cookies.