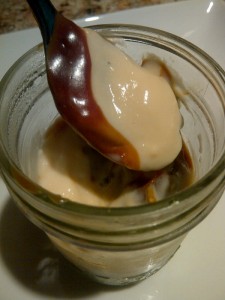 I was leafing through some food magazines last week and came across a Bon Appetit recipe by Marcie Turney of Barbuzzo in Philadelphia for Budino, an Italian pudding, with two different layers of salty caramel.  The photo was calling me to replicate it and I did, with some short cuts and modifications that I think everyone will enjoy. Yes, it is three steps, but the crumbles take a minute and the dessert through the pudding layer can be made a day in advance.
Cookie Crumbles Ingredients:
Pudding Ingredient:
3 cups whole milk, divided
1/4 cup cornstarch
3/4 cup brown sugar
5 large egg yolks
3 Tbsp. butter
2 tsp. rum
1 tsp. kosher salt
Salted Caramel Topping Ingredients:
3/4 cup heavy cream
2 tsp. pure vanilla extract
1/2 cup sugar
2 Tbsp. light corn syrup
1/2 stick (4 Tbsp.) cold butter, cut into 1/2″ cubes
1/4 tsp. kosher salt
Whipped cream (optional)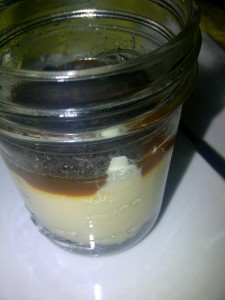 Cookie Crumbles Directions:
In a small bowl, combine the cookie crumbs, butter, and salt. Reserve 2 tablespoons of the crumbles for later use. Press 2 tablespoons crumble mixture onto the bottom of eight 8-ounce mason jars or ramekins.
Pudding Ingredients:
Whisk 1/2 cup milk and the cornstarch in a small bowl. Set aside.
Heat 2 1/2 cups milk in a small saucepan just to a simmer. Set aside.
Gently stir sugar and 3/4 cup water in a medium heavy saucepan over medium heat until sugar dissolves, about 2 minutes. Increase heat to medium-high and cook without stirring until an instant-read thermometer registers 210°–220°, about 5 minutes.
Whisk egg yolks in a large bowl. Gradually whisk in hot milk, then cornstarch mixture. Slowly whisk in caramel. Return mixture to the saucepan. Whisk constantly over medium heat until mixture thickens and a thermometer registers 175°, about 3 minutes. Remove from heat.
Whisk in butter, rum, and salt.
Pour 1/2 cup pudding over crumbles in each jar. Cover with plastic wrap and chill until set, 4–5 hours.
Salted Caramel Topping Ingredients:
Combine the cream and vanilla in a small bowl and set aside.
Stir sugar, corn syrup, and 2 tablespoons water in a heavy saucepan over medium heat until sugar dissolves, about 2 minutes. Increase heat to medium-high and boil, occasionally swirling pan, until deep amber color forms, 5–6 minutes – do not stir the mixture or walk away as caramel can burn very quickly! Remove from heat and gradually add vanilla cream – be careful as the mixture will bubble vigorously. Whisk over medium heat until smooth and thick, about 2 minutes. Remove from heat and whisk in butter and salt. Allow to cool slightly about 5 minutes.
Spoon 1-2 tablespoons caramel sauce over each pudding.
Top with whipped cream, if using, then sprinkle some of reserved cookie crumbles over each.
Makes eight 8-ounce budino.