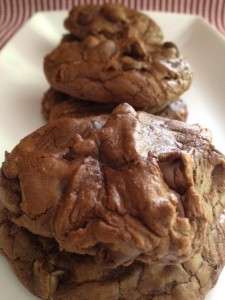 At the end of each month, the Operations team at my day jobs works extra-long hours to ensure all sold equipment is processed, packed and shipped.  Since I'm limited in what I can do to help, I typically bake something special that gives everyone an extra boost of energy.  This month's treat is my quadruple chocolate brownie cookies.
Ingredients:
1 stick (1/2 cup) butter
2 ounces unsweetened baking chocolate, chopped
2 ounces bittersweet chocolate, chopped
1 ½ cups semisweet chocolate chips
4 eggs
1 cup granulated sugar
½ cup brown sugar
2 tsp. pure vanilla extract
½ tsp. baking powder
½ tsp. salt
1 ½ cups flour
1 ½ cups milk chocolate chips
Directions:
Preheat oven to 350 degrees.
In a heavy saucepan over medium heat, place the butter, unsweetened chocolate, bittersweet chocolate and semisweet chocolate chips.  Cook until mostly melted, about 4 minutes, then stir until smooth.  Cool for about 15 minutes, until slightly thickened.
In the bowl of an electric mixer, add the eggs, the granulated sugar and the brown sugar. Mix for about 2 minutes, until fully combined.  Add the vanilla, the baking powder and the salt.  Mix for 1 minute.  Incorporate the flour in three additions.  Add the cooled chocolate mixture.  Mix for 1 minute.  By hand, stir in the milk chocolate chips.
Drop by the tablespoonful onto parchment paper-lined cookie sheets (you should have about 12 cookies per cookie sheet).  Bake for 10 minutes – no more!  The cookies will still be a bit giggly in the middle.
Cool the cookies for 5 minutes on the cookie sheets then place on wire racks to cool completely.
Makes about 3 dozen cookies.
Notes: If you don't have milk chocolate chips, simply replace with semi-sweet chocolate chips and call the recipe Triple Chocolate Brownie Cookies!