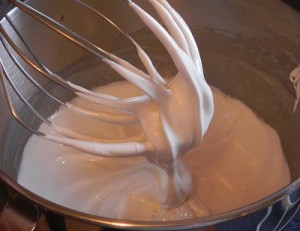 I was searching for a fail-proof meringue recipe for my Baked Alaska and came across an easy-to-make and perfect version by King Arthur Flour.  No messy eggs whites, no egg yolk leftovers to worry about – just a beautifully glossy meringue.
Ingredients:
3/4 cup granulated sugar
1/2 cup water, boiling
1/4 cup meringue powder
Directions:
Dissolve the sugar in the boiling water, stirring to incorporate.  Set aside until cooled.
Add the cooled sugar/water simple syrup to the bowl of an electric mixer and add the meringue powder.  Whip the mixture for three to five minutes, depending on how stiff you want your meringue.
Makes about 3 cups of meringue.