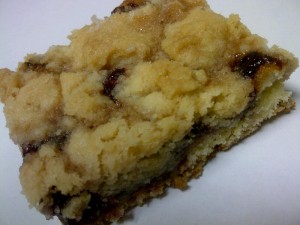 I am always excited when someone sends me a recipe that I am allowed to publish and share with you. This super simple and delicious recipe comes from my Marketing Intern, Kayla, who bakes these bars and brought them to work last week. This recipe is her Grand-Mother's.
Crust Ingredients:
1 ½ sticks of butter, softened
2 eggs
1 cup granulated sugar
1 tsp. baking powder
1 tsp. pure vanilla extract
2 cups all-purpose flour
18-ounce jar of high-quality raspberry jam
Crust Directions:
In the bowl of an electric mixer, cream the butter until light and fluffy, about 2 minutes.
Gradually add the sugar to the butter until incorporated.
Add the eggs, one at a time, beating well after each one.
Add the vanilla.
Add the baking powder to the flour then incorporate the flour into the butter mixture, a half cup at a time, until just combined. Do not overmix.
Pat the crust onto the bottom and a bit up the sides of a greased, 13×9 pan.
Spread the jam over the crust. Set aside.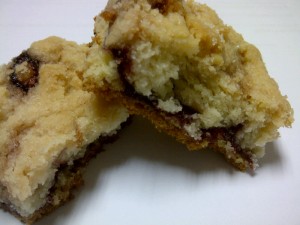 Crumb Topping Ingredients:
2 sticks of butter, softened
3 cups all-purpose flour
1 ½ cups granulated sugar
Crumb Topping Directions:
Preheat oven to 350 degrees.
Combine the ingredients in a large bowl using fingertips. When butter has been mostly incorporated with the dry ingredients, crumble the topping over the raspberry jam in the pan.
Bake for 45 minutes or until golden brown.
Makes about 18 bars.