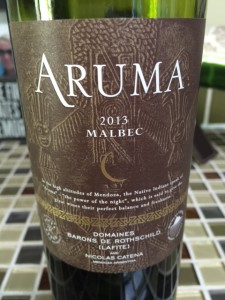 Aruma means "night" in the language of the Quechua, the native Indian population of the Mendoza region. The name is appropriate for this deep purple/red wine from Mendoza. Big floral and red fruit aromas. In the mouth, this medium-bodied Malbec is velvety with licorice and dried cherry flavors and peppery notes. Long finish with firm tannins.
Nice, drinkable-now Malbec for a great price.
Pairings: Barbecued ribs and chicken. Red pasta sauce. Burgers or pizza.
Style: Red Wine
Grape Type(s): Malbec
Region: Mendoza, Argentina
Price: $15
This wine was provided to me for sampling and I am adding it to my repertoire as it's truly enjoyable.