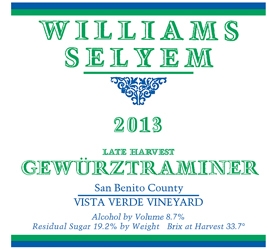 It's the first time I'd bought this dessert wine in my Williams Selyem allocation and won't miss that opportunity again!
Classic ultra floral / tropical fruit Gewürztraminer aromas. In the mouth, this wine has lovely Asian pear, ripe sweet melon flavors with non-cloying sweet notes. Perfect level of acidity to balance out the sweetness, which dessert winemakers don't always successfully accomplish.
Pairings: Pear/peach tart, foie gras, crème brulée.
Style: Dessert Wine
Grape Type(s): Gewürztraminer
Region: San Benito County, California, USA
Price: $40