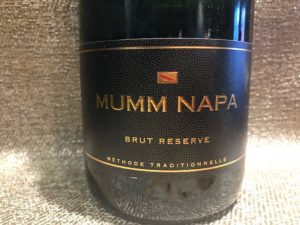 Mumm Napa Brut Reserve NV.
The holidays are right around the corner and that means popping corks on bottles of bubbly. With so many options on the market, it's difficult to decide on what bottles to stock up on.
Mumm Napa Brut Reserve NV is a great option in terms of price point and taste. Established in the late 70s, Mumm Napa follows the winemaking techniques of its French heritage to create its Napa sparkling wines.
I paired this bubbly with coquilles St Jacques and it was a great pairing. The rich sauce and the dry slightly yeasty bubbly worked so well, but this food-friendly wine would be great with a variety of dishes.
Looks: Medium yellow in the glass with tiny, moussy bubbles.
Smell: Toasted bread and nutty aromas with apple notes.
Taste: Ripe apple/pear flavors with some vanilla notes.
Finish: Medium-long complex finish.
Pairings: Fried chicken, grilled fish, seafood.
Style: Sparkling Wine
Grape Type(s): 60% Pinot Noir, 40% Chardonnay
Region: Napa Valley, California, USA
Price: $20
This wine was provided to me for sampling and I am adding it to my repertoire as it's truly enjoyable.