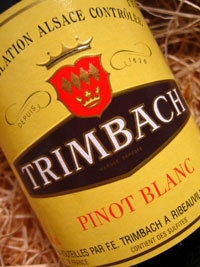 Love the slightly greenish color of this Alsatian wine. Also love the very floral aromas if offers. The 2009 Trimbach Pinot Blanc is rich with flavors of peach and ripe lemons. This French Pinot Blanc makes me crave seafood.
Pairings: Fish, seafood, especially seared scallops
Style: White Wine
Grape Type(s): Pinot Blanc
Region: Alsace, France
Price: $16
This wine was provided to me for sampling and I am adding to my repertoire as it is truly enjoyable.