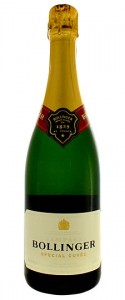 Bought two bottles of this Champagne last weekend and loved the first one. I popped the second one last night's for #champagneday, a virtual tasting of all things Champagne.
This Champagne is golden in the glass with tons of tiny bubbles. On the nose, the Bollinger Special Cuvee offers Asian apple and buttered toast notes. In the mouth, it is creamy, rich, well-balanced with a great level of acidity. There are notes of Meyer lemon, ripe pear and toasted almonds. Very nice Champagne showing better than many at twice that price.
93 points Wine Spectator.
Pairings:  Smoked salmon, caviar, poached chicken, lobster, risotto.
Style: Champagne / Sparkling Wine
Grape Type(s): 60% Pinot Noir, 25% Chardonnay, 15% Pinot Meunier.
Region: Champagne, France
Price: $55