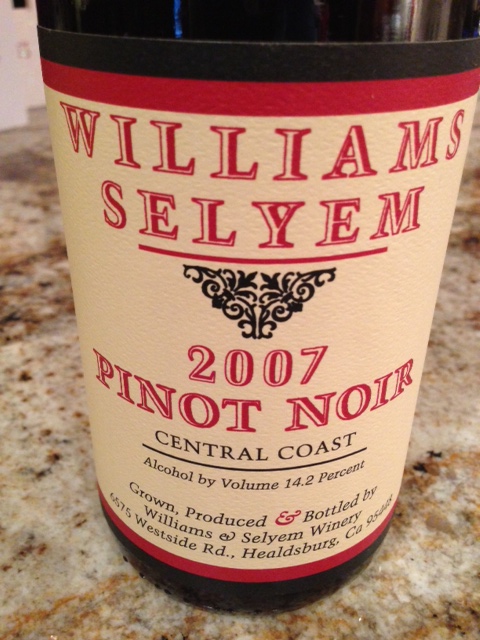 Every month, eight of us wine-minded friends visit a New Jersey BYOB restaurant for a wine-filled evening. It's gotten to a point where each couple tries to outdo the others with not only top-notch wines, but also somewhat difficult-to-find bottles.
For last month's dinner, I bought a bottle of 2007 Williams Selyem Pinot Noir Central Coast from a reputable online wine seller. The wine came about 4 weeks prior to the scheduled dinner and it sat on my wine bar that whole time, staring at me, urging me to uncork it.
Well, I behaved and waited for the dinner party to uncork it, but was excited to show it off as Williams Selyem wines are top-rated, somewhat hard-to-buy wines that come close to perfection, in my opinion. After everyone sat at the table, my Twitter food and wine pal, Marty, and I unpacked our bottles at the same time and Marty had a 2011 Williams Selyem Papera Vineyard Zinfandel. What a coincidence, a very pleasant coincidence! We both laughed at our good fortune and truly enjoyed each bottle.
Here are my tasting notes for both bottles:
If you have an opportunity to sample any Williams Selyem wines, jump at the chance. Winemaker Bob Cabral is a genus.
Cheers,
Veronique