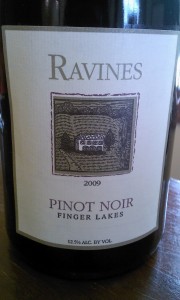 The 2009 Ravines Wine Cellars Pinot Noir is a beautiful ruby in the glass. The nose is of red berries and cherries. In the mouth, the ripe cherries continue with some earthy, smoky notes with underlying oak from the French oak barrels the wine sees.  Soft tannins and pleasant velvety texture. Very Burgundian in style.
Not sure there are American Pinot Noirs, outside of some Russian River wines, that are better than this little gem.
Pairings:  Salmon, pork, roast chicken or duck. Very food-friendly wine.
Style: Red
Grape Type(s): Pinot Noir
Region: Finger Lakes, NY, USA
Price: $23