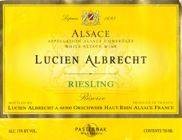 I love Riesling. Sweet, semi-dry, dry – it doesn't matter, I enjoy it all. While I'm partial to German and Finger Lakes Riesling, there's no denying that the Alsatians do it very well also.
Pale yellow in the glass, this Alsatian Riesling offers aromas of apple and pear. In the mouth, it's not sweet at all and has Asian pear and floral flavors. Enjoyable dry finish.
Pairings: Shellfish, especially lobster
Style: White Wine
Grape Type(s): Riesling
Region: Alsace, France
Price: $20
This wine was provided to me for sampling and I am adding to my repertoire as it is truly enjoyable.