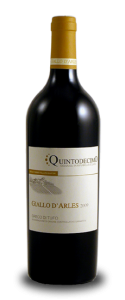 Golden straw color in the glass, this Italian white wine offers intense floral aromas and freshly-baked bread notes. This full-bodied Greco Bianco benefits from seeing some French oak and tastes of ripe peach and apricot. Long finish with nice balance and acidity.
The Sommelier at Marea suggested this wine to our party having both fish and meat and it was a great choice.
Pairings: Fish, seafood, poached chicken.
Style: White Wine
Grape Type(s): Greco Bianco
Region: Campania, Italy
Price: $40