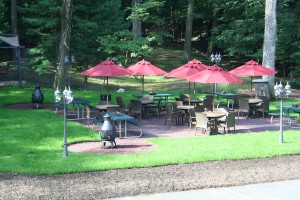 A popular local MeetUp group I belong to is the Northern New Jersey Wine MeetUp Group where both singles and couples gather to learn about, and enjoy wines from around the world.  How fun is that!?
If you're not familiar with MeetUp, it is the world's largest network of local groups.
Last weekend, our group held its annual pig roast, fittingly dubbed Swine and Wine.  The event was held at the beautiful Tree Tavern, a private event destination in Wanaque, NJ.
The delicious food was catered by Frank Hewitt and Augie Viviani, the owners of Party Chefs of Haskell, NJ (973-492-8182), whose specialties are pig roasts, clam bakes and lobster bakes.  Frank and Augie showed a real passion for their business and fixed a super meal for us.  Served along the perfectly-seasoned and roasted pork with dreamy lacquered skin, was a buffet of tangy bean salad, fresh Jersey corn with drawn butter, two salads, roasted vegetables and flavorful yellow rice.  There were also hamburgers and hot dogs.  Super, and affordable, party concept that I highly recommend.
Wino Bob, one of the group organizers, poured a 2006 Oriel Femme Fatale Bordeaux Rose ($20), a luscious wine with bright strawberry flavors and nice acidity, the 2010 Hogwash ($15), a light rosé, perfect for summer fun and the 2008 Tamas Double Decker Red ($10), a Cabernet Sauvignon, Petite Sirah and Barbera blend which pairs nicely with grilled meats.
In New Jersey?  Come join us for the next celebration, and if you do, come say hello!
Cheers,
Veronique