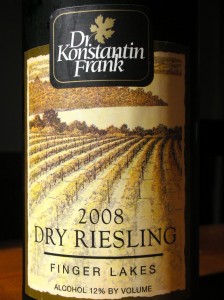 I decided to pair this Finger Lakes wine with scallop ceviche I was serving as a starter at my last dinner party and it was a super choice.
When I poured the 2008 Dr Konstantin Frank Dry Riesling, it was straw colored in the glass.  I thought I'd made an error and opened a sweet Riesling judging by the honey color of the wine, but upon tasting it, I was pleased by the tartness and acidity I found.  In the mouth, this wine offers Fiji apple, ripe lemons and wet steely stones.  Great acidity and length on the finish.
Nice summer wine to add to my repertoire of affordable Rieslings.
Around: $15.