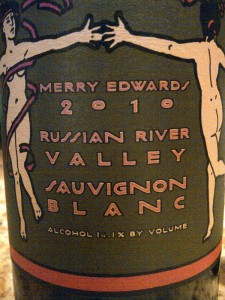 Yes, I'm continuing my homage to Merry Edwards, but this time, it is not Pinot Noir I'm clamoring about, it is Merry's delicious 2010 Russian River Sauvignon Blanc.
On the nose, this wine is floral with a ton of tropical fruit notes.  On the palate, there is pink grapefruit, Meyer lemons, a drizzle of honey and Asian pear.
The wine's six month fermentation in seasoned French oak barrels created a Sauvignon Blanc with real backbone and depth.  This isn't a pale, watery Sauvignon Blanc made to be sipped as an aperitif on a hot summer day.  It's a rich, well-balanced, bright wine that is wonderful paired with fish or seafood but can also hold its own with spicy dishes.
Super wine for fans of Gewürztraminer and dry Riesling.  A bit of a splurge for some Sauvignon Blanc drinkers, but certainly worth every penny.
Style: White Wine
Grape Type(s): Sauvignon Blanc, Sauvignon Musque
Region: Russian River Valley / Sonoma, CA
Around $30