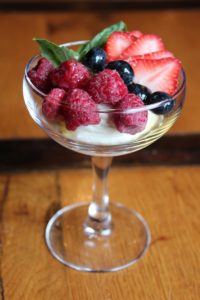 July is National Blueberry Month and Spuntino Wine Bar & Italian Tapas will feature specialty cocktails and dishes starring the little blue beauties as their juicy flavor come into full seasonal swing.
This summery dish will be served at the popular restaurant throughout the summer.
Berries & Ricotta
Makes 6
Ingredients:
Whipped Ricotta:
16 oz of Whole Milk Ricotta Cheese
8 oz of Whipped Cream Cheese
1/4 Cup of Confectionary Sugar
3 Tbsp of Honey
1 Tbsp of Simple Syrup
1 tsp of Vanilla Extract
1 tsp of Orange Zest
To Plate:
Strawberries
Blueberries
Raspberries
Honey
Mint (for garnish)
Preparation:
Blend ricotta, cream cheese and remaining ingredients in food processor until smooth. Transfer to bowl. Cover bowl and refrigerate until set, about 2 – 3 Hours. Divide whipped ricotta mixture among six wine glasses or coupe glasses. Top with fruit and drizzle with honey. Garnish with mint.
Enjoy!
Veronique