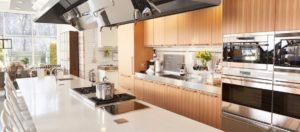 Heirloom Kitchen, Chef's Table & Cooking School, in Old Bridge, NJ, has announced a partnership with Executive Chef David Viana that includes weekend dinner service Friday through Sunday from 5PM until 10PM.
Viana has spent a year freelancing as a guest chef at Heirloom Kitchen and can now offer a truly unique dining space where guests may choose to dine at the Chef's Table, an island surrounding an open kitchen where they can watch Chef Viana and Sous Chef Andrew Wolverton prepare and artfully present their dishes. Communal seating at a ten foot white oak farm table and more traditional dining options are also available.
Chef Viana's menu rotates weekly, featuring modern, playful and seasonal takes on American classics. Chef Jon Boot will spearhead the pastry program and conceptualize Heirloom's desserts. Chef Boot has worked in some of the state's most esteemed restaurants, including The Ryland Inn, Elements, and The Bernards Inn.
Heirloom Kitchen is a BYO but will also hold a California Winery License from Domenico Winery which will offer fabulous California wines at retail pricing.
About David Viana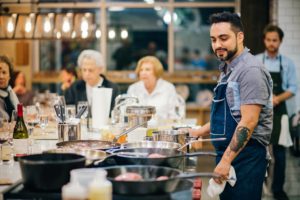 Among Chef Viana's many accomplishments, was his recent post as Executive Chef at The Kitchen at Grove Station in Jersey City, New Jersey, where he earned a coveted three stars from The New York Times. Among his experience includes time working with the industry's most recognizable chefs including Bobby Flay, Michael White, Anne Burrell and David Drake, in addition to his time working at heralded restaurants such as Eleven Madison Park, in New York City.
Dinner Service: Fri–Sun, 5pm–10pm
Reservations can be made on Open Table or by calling 732 727 9444.
Heirloom Kitchen – 3853 Route 516 Old Bridge, NJ 08557.
Cheers,
Veronique