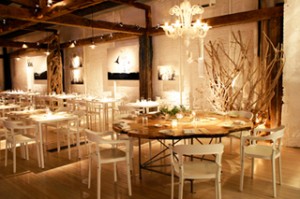 I had brunch at ABC Kitchen this past Saturday and left inspired to purchase organic produce at Union Square Greenmarket to bring home and enjoy.  This new venture by famed Alsatian chef Jean-Georges Vongerichten truly impressed me with its décor, service and food.
According to the restaurant, "ABC Kitchen has a committed focus to local, sustainable and organic seasonal produce that does not use pesticides, synthetic fertilizers, insecticides or GMOs; meat, fish and dairy that is locally sourced where possible, from humanely treated pasture-fed animals free of antibiotics and hormones; teas, coffees, spices, organic wines, juices and elixirs that are organically cultivated on fair trade cooperatives celebrating and honoring sustainability, artistry and our global diversity."
The brunch menu offers six "Market Table" options which are meant to be small plates to be enjoyed by all guests at the table.  Neat idea, no?  The options range from marinated olives ($6) to crab toast with lemon aioli ($15).  We opted for the roasted beets with homemade yogurt ($9) which were outstanding.  Several varieties of beets were featured over the tangiest, freshest yogurt and a drizzle of greenish olive oil and balsamic vinegar.  What a great way to level set our expectations of the meal to come!
Although the brunch entrée menu features some classics like eggs benedict ($18) and buttermilk pancakes ($15), the benny are served with ham from heritage pigs of famed Flying Pigs Farm and the cakes are served with lemon curd giving them an edge.  Our party opted for a goat cheese and spinach omelet over roasted cherry tomatoes ($18).  Farm-fresh eggs give this omelet a beautiful golden hue and the contrast between the tart goat cheese and the sweet tomatoes is great.
ABC Kitchen, which was named Best New Restaurant of 2011 by the James Beard Foundation, offers several whole wheat pizzas ($14 – $18) and we chose the mushroom, parmesan and oregano version with a barely-cooked, sunny-side up egg on top.  WOW, this is the best pizza I have had in recent memory.  Woodsy mushrooms and salty cheese top the perfectly chewy, slightly charred crust.  A true winner that I highly recommend.
The service at ABC Kitchen is fun and knowledgeable.  The staff wears country-ish plaid shirts and Converse shoes.  The two servers who took care of our party were passionate about the food, knowledgeable about the ingredients and helped us with authentic enthusiasm.
Jean-Georges does it again with ABC Kitchen and its locavore sustainability theme.  This inventive restaurant, led by chef Dan Kluger, is a must-try when in New York City.
35 East 18th Street (between Broadway & Park Avenue)
New York, NY 10003
212 475 5829