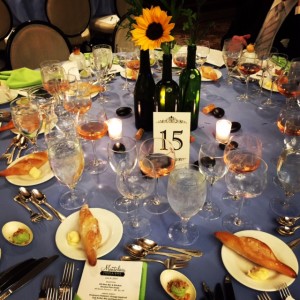 Last night, I was invited to attend the Montclair Food & Wine Festival Gala Dinner at The Manor in West Orange. The Gala Dinner is an exclusive night of collaborative culinary magic showcasing a six-course dinner designed and prepared by some of the area's most talented chefs.
A fun part of the event this year was the new Amuse Bouche Series that each guest was treated to from four of the most creative chefs in the area. From the Caesar Salad Ice Cream by Chef Zod Arifai (Blu & Next Door) to Chef Meny Vaknin's salmon on beet focaccia to Chef Francesco Palmieri (The Orange Squirrel) serving an outrageously-tasty smoked corn and goat cheese panna cotta with pickled asparagus and popcorn shoot stem, smoked sea salt and popcorn petal served in a river stone to Chef Thomas Ciszak (Blue Morel & Chakra) offering a perfect bite of foie gras in a puff pastry with quince and black truffle-Balsamic glaze – the amuses set the tone for the meal to come.
The rest of the meal went as follow:
Chef Ariane Duarte (Ariane Kitchen & Bar) started off the meal with her Perfectly Poached Shrimp, Toasted Garlic Lemon Aioli, Avocado Corn Salad. In her words "elevated shrimp cocktail". I could have used a whole bowl of the avocado corn salad – fresh and tasty.
Chef Ryan DePersio (Fascino) had the fish course and served Pancetta-Wrapped Bronzini, Filled with Tomato Confit, Crispy Couscous, Asparagus Salsa Verde. Bronzino is likely my favorite fish, so the dish was right up my alley. The crispy couscous – clever, very clever.
Chef Mitchell Altholz (Highlawn Pavilion) served what the folks at my table and some guests I spoke with called the dish of the evening – Spring Lamb Ravioli, Merguez Jus, Fresh Mint, Brunoise of Heirloom Carrots. Great lamb flavor, bright punch of mint – a winner.
Chef Kevin Sippel (Jockey Hollow Bar & Kitchen) had the meat dish and served Veal Cheeks, Bone Marrow Gremolata, Fava Beans, Pecorino. The veal cheeks were melt-in-your-mouth.
Chef Michael Carrino (Pig & Prince Restaurant & Gastrolounge) ended the meal with an elegant dessert of Lemon Sponge Cake, Goat Cheese Mousse, Lemon Meringue, Cucumber, Melon, Herb Flowers.
Wine pairings were expertly-selected by Sharon Sevrens of Amanti Vino. Here were the wines served (available for sale at Amanti Vino):
Gobelsburger Rosé 2014 – one of my favorites for summer – dry, light strawberry flavors, served with the amuses.
Patrick Piuze – Chablis Terroir de Courgis 2014 – simply gorgeous wine we were told would be a very sought-after name in Chablis in a few years.
Huet Vouvray Demi-Sec Le Mont 2007 – loved this demi-sec wine but was my least favorite pairing with the light bronzini.
Graci – Etna Rosso 2012 – a natural match to the flavorful lamb ravioli.
Tenuta di Trinoro le Cupole 2010 – tart with lovely acidity to cut through the richness of the veal cheeks and marrow.
Dessert was paired with an ultra-refreshing rum cocktail by Busted Barrel Rum.
For those of you who missed the Gala Dinner, you're in luck as the Montclair Food & Wine Festival goes into next weekend with two must-attend events held at the Montclair Art Museum (3 South Mountain Avenue, Montclair):
Bourbon & Biergarten – Friday June 12, 7PM – 9PM.
The fun event will feature food samplings from over 25 local restaurants and food artisans. Each attendee will receive a commemorative sampling glass. Beers and bourbons curated by Amanti Vino. A portion of the proceeds from this evening will go to support education and exhibition programs at Montclair Art Museum.
Click here for a list of participating restaurants at the Bourbon & Biergarten.
Grand Tasting – Saturday June 13, 7PM – 9PM.
At the Grand Tasting, guests will enjoy an evening of diverse culinary offerings from many of the state's finest restaurants.
Click here for a list of all the restaurants participating in the Grand Tasting.
Plus, Amanti Vino has an incredible list of wines being poured. For my fellow wine aficionados, here's the list of wines for this event.
Want an exclusive experience? The VIP ($135) hour, hosted in Lehman Court of the Montclair Art Museum, from 6PM – 7PM, will feature select restauranteurs and curated wines, as well as galleries open for viewing.
VIP Lounge Participants: Escape Montclair, Fresco da Franco, Restaurant Latour, Samba Montclair.
While the events are fun and tasty, the goal of the festival is to raise funds for three very worthy charities. Click here to learn about them.
Hope you're able to join the rest of the festivities!
Cheers,
Veronique