This was our third time to Stages at One Washington, Chef Evan Hennessey's award-winning restaurant in Dover, NH. Our meal and experience was once again a win on all levels. See my 2016 meal recap.
Chef Hennessey and his staff are the epitome of hospitality and we feel like welcomed family each time we visit. The food is creative, presented in the most inventive-yet-simple way and offers flavors that are pleasantly unfamiliar, intriguing and delectable. The experience of the chef's counter, overlooking the open kitchen and food plating area, is not only entertaining, it provides a view, literally, into what goes into presenting food of this caliber that diners don't often have an opportunity to see.
Guests entrust their meal selections to the kitchen staff, typically Chef Hennessey and a sous chef. On the evening we visited, Chef Hennessey was joined by Chef de Partie, Elena Faltas. One can opt for a four, eight or 10-course menu, all very affordable – we actually feel that our eight-course meal with ingredients of this level, prepared with such finesse should cost more than $100. The meal began with an amuse bouche followed by eight courses consisting of savory and sweet courses. To say dishes change with the season and based on what's local would be the understatement of the year. Chef Hennessey and his staff are constantly foraging ingredients from the forest and the seashore. For a fascinating view of their foraging efforts, follow Chef Hennessey on Instagram. It's truly eye-opening to see the level of efforts that goes into their food.
Here was the menu when we dined at Stages in mid-July: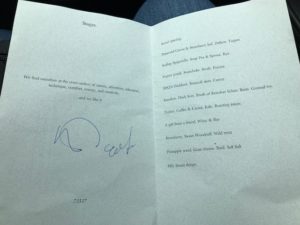 Complex flavors and textures aren't easily achieved. Stages pickles, preserves, smokes and uses other intricate methods to accomplish the savors in each inventive dish. I personally appreciate the heck out of this talented team.
The wine and beer list is smart with some unusual (in the best possible way) finds that pair beautifully with the food. I opted for the wine pairing while my husband ordered from the craft beer list that's heavily influenced by Bad Lab Beer Co., a local brewery Chef Hennessey is developing a neat restaurant concept for that should be opening very soon.
Our special trip to southern New Hampshire and Stages rewarded us with yet another fabulous meal. For fellow food-obsessed friends, dining at Stages at One Washington is very much worth the drive from the NY metro or Boston area.
Wednesday – Saturday: 6PM – 11PM.
One Washington Street, Dover NH 03820. 603-842-4077.
Cheers,
Veronique