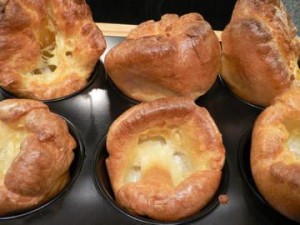 I was making prime rib for a small New Year's Eve party I was hosting and couldn't see not serving Yorkshire Puddings.  Some past recipes I'd tried failed and I was somewhat intimidated to try again, particularly for a holiday dinner party.  I found the following straight-forward recipe that proved both simple to prepare and delicious.
Adapted from a recipe by Regina Varolli.
Ingredients:
2 large eggs
1 cup whole milk, divided
1 cup all purpose flour
½ tsp. coarse kosher salt
¼ cup liquid beef rendering or vegetable oil
Directions (at least 6 hours prior to serving the puddings):
In a medium bowl, whisk the eggs with

½ cup

of milk, set aside.
In another medium bowl, combine the flour and salt together.  Add the egg mixture and whisk vigorously until there are absolutely no lumps left in the batter.
Cover the batter with plastic wrap and keep it at room temperature until ready to use (at least 6 hours).
Directions (when ready to serve the Yorkshire puddings):
Heat oven to 425 degrees.
Place a 12-muffin tin into the hot oven and heat it until the pan is very hot, about 5 minutes.  Measure out one teaspoon of beef fat (or oil) into each muffin cup and place the pan back in the oven.  Leave the pan in the oven until the fat is literally smoking hot, about 5 minutes.
As the fat is heating, whisk the remaining ½ cup cold milk into the batter that's been sitting out all day.  Whisk in some fresh, coarsely ground black pepper to taste. Put the batter into a vessel that makes it easy to pour.
When the fat is smoking, take the muffin tin out of the oven and, working as quickly as possible, pour the batter evenly into the 12 cups.  If the batter doesn't sizzle as you pour it in the muffin cups, expect your Yorkshire puddings to not rise.
Immediately return the pan to the oven and bake for 20-25 minutes.  Do not open the oven for the first 20 minutes of baking.  The Yorkshire puddings are done when they are dark golden brown and dry to the touch.  The inside of the puddings will be moist.
Serve immediately.  Yorkshire puddings don't wait, so bake them as you need to serve them.
Makes 12 standard muffin-sized puddings.