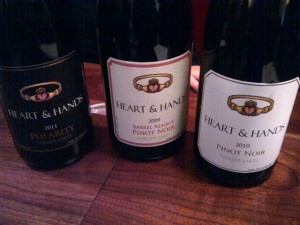 Since being exposed to Finger Lakes wines nearly 10 years ago, I have been a staunch supporter of the products coming out of that region.
I am a devoted fan of high minerality, dry Rieslings from the Mosel region and to me, Finger Lakes dry Rieslings rank up there with those fabulous German wines. While a growing number of wine aficionados know and enjoy Finger Lakes Rieslings, a grape some of the wineries in the region do well is Pinot Noir. The winery doing Pinot Noir best is, in my opinion, Heart & Hands Wine Company on the northeastern shore of Cayuga Lake.
Tech industry veteran Tom Higgins, with experience working at Zachy's Wine & Liquor and vineyards in Bordeaux and the Finger Lakes, established Heart & Hands with his spouse Susan in 2006. After investing a significant amount of time on site selection to find the location most conducive to growing Pinot Noir, Tom and Susan opted for a 6 acre plot located about 200 meters from the shoreline of Carr's Cove on Cayuga Lake. The winery officially opened in 2008 and the cozy tasting room opened to the public in 2009.
Puzzled by the Claddagh ring on their wine labels, I asked Susan why they had chosen it and she explained that the Irish wedding ring symbol depicts love, togetherness and fidelity, hence the heart and hands name of their winery. Tom and Susan named their wine club The Claddagh Club. Members of the wine club receive quarterly allocations of Heart & Hands wines, including guaranteed allocations of "Single Vineyard" Pinot Noirs and Rieslings and allocations of club-only wines. There are two club membership levels: "Eclectic Collection" or "Exclusively Red". The Eclectic Collection features wines selected from the full portfolio, including Pinot Noir, Sparkling Wine and Riesling. The Exclusively Red Collection, of which I am a member, features Pinot Noir exclusively.
The boutique winery produces around 2,000 cases of wine a year and focuses solely on Riesling and Pinot Noir. During a recent visit, Susan poured us most of the collection under the watchful eye of her gentle giant winery dog, Fion. Here are tasting notes for some of these wines:
2009 Heart & Hands Barrel Reserve Pinot Noir ($40.99)
Medium raspberry-colored in the glass. Cherry, mocha and spiced aromas. Palate of ripe cherries and a little jammy stone fruit with a velvety mouthfeel and a long finish with some lingering tannins. This wine is closed under Vino-Seal for a completely leak-proof and taste neutral closure. A lovely Pinot Noir.
2011 Heart & Hands Polarity Pinot Noir Blanc ($26.99)
What happens to Pinot Noir that is pressed with almost no contact to the skins? Pinot Noir Blanc. Lightly golden in the glass, this is a pretty different yet delicious wine. Caramel and pear tart with a buttery crust in a glass. Long dry finish.
2011 Dry Riesling ($22.99)
Pale lemon-colored in the glass, this wine offers lemon/lime aromas. While there is still citrus on the palate, the flavors are richer with some peach and ripe melon. Dry, medium finish.
Heart & Hands Pinot Noir has garnered some very good press in recent years for its stellar wines, even getting some love from James Molesworth of Wine Spectator who recognizes that Tom is willing to lower yields to produce superior quality Pinot Noir.
Heart & Hands wines are available through the winery's online store or at select New York restaurants and retail locations. Now, if the winery could develop a more robust distribution channel so more of us can enjoy its products….
The tasting room is open Fridays, Saturdays and Sundays from 12 – 5pm, and on Mondays and Thursdays by appointment.
4162 State Route 90, Union Springs, NY, 13160
(315) 889-8500
Cheers,
Veronique