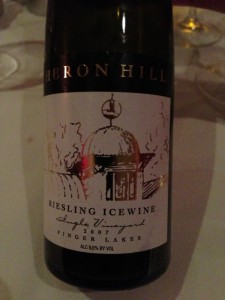 This dessert wine is made from a small section of Ingle Vineyard's younger vines (15 years old) and the grapes are harvested when frozen then hand-sorted.
In the glass, it's strikingly golden with juicy tropical fruit, honey and jammy fig aromas. This is a rich and intense wine that's not overly sweet and offers ripe apple flavors and a nice level of acidity.
Glad I secured four bottles of this delicious wine when I last visited Heron Hill as it's now sold out.
Pairings: Cheese course, stone fruit or caramel desserts
Style: Sweet / Dessert Wine
Grape Type(s): Riesling
Region: Finger Lakes, NY, USA
Price: $49.99 (375ml)