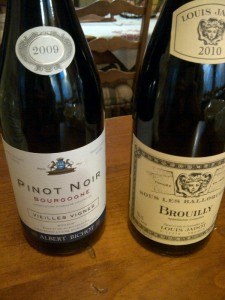 I had this wine in Quebec at an outdoor party where it was paired with Dad's Quebec Smoked Meat Sandwiches.
In the glass, this nicely-balanced wine is a medium red. The ripe cherry nose is fruity and bright. In the mouth, there is a nice level of acidity and cherries mix with strawberries on this light-medium bodied French Pinot Noir.
Pairings:  Salmon, pork, roast chicken or duck. Pairs well with most food.
Style: Red
Grape Type(s): Pinot Noir
Region: Burgundy, France
Price: $15