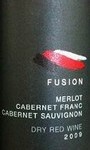 This Kosher wine is a blend of Merlot, Cabernet Franc and Cabernet Sauvignon that was a great pairing with rosemary and garlic-marinated lamb chops.
The inky-colored hue of this Galilee Heights wine hints to a heavy wine, but I was surprised by a medium-bodied, elegant one instead.
The nose on this Israeli wine is stone fruits, dark berries and slight spice.  In the mouth it's bolder, plummy with traces of licorice.  The slight pucker caused by the tannins mixed with the fatty, rosemary-infused lamb was a winner.  The finish is of medium length, dry and pleasant.
About $16.