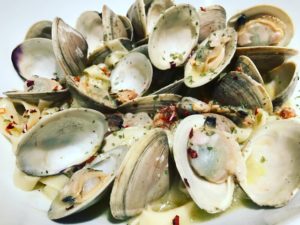 I was watching an old episode of The Best Thing I Ever Ate – SAUCED last weekend where Chef Michael Psilakis talked about the linguine and clam sauce at Don Peppe in Queens, NY (watch the mouth-watering episode here). That's basically all I could think of this whole past week so I decided to try to recreate the simple yet delish dish.
First, please use good quality pasta – my favorite is Delverde. Next, buy your clams from a reputable source. Last, take the time to really confit (slow cook for a long time) the garlic – it's key in this recipe.
If you want a slightly thicker sauce, you could create a slurry of ¼ cup water and 1 teaspoon of cornstarch and add right before step 4. I don't think it's necessary and some, I'm sure, would find this sacrilegious.
Ingredients:
1 pound of linguine or fettucine, cooked 1 minute less than package direction, with ½ cup pasta cooking water reserved
1 cup olive oil
10 whole garlic cloves, peeled
1 cup dry white wine
Juice of ½ lemon
1 tsp. red pepper flakes
½ tsp. each salt and pepper
2 dozens little neck clams
3 Tbsp. butter
Chopped Italian parsley, optional
Directions:
In a small heavy saucepan over medium-low heat, warm the olive oil. Add the garlic cloves and allow to cook for 20 minutes. If the cloves are smaller and they begin to brown early in the cooking process, lower the heat to low – make sure the cloves don't burn!
Add the garlic cloves and the cooking oil to a large sauté pan that has a lid. Turn the heat to medium and add the ½ cup pasta cooking water, wine, lemon juice, red pepper, salt and pepper to the oil. Bring to a simmer and whisk to combine.
Add the clams to the sauté pan, cover with the lid and cook for 3-4 minutes until the clams have opened. Discard any clams that didn't open (unopened clams = bad clams). Remove the clams to a large serving bowl, leaving the sauce in the sauté pan.
Lower the heat to low and add the butter, swirling until fully melted.
Add the pasta and gently stir to coat in the sauce. Add the parsley, if using, then add the sauce and pasta to the serving bowl with the clams, tossing gently to combine.
Serve with crusty bread.
Makes two VERY generous portions.