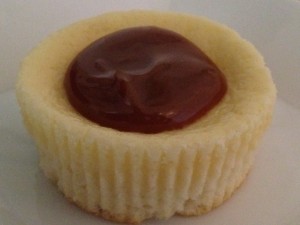 This weekend, I was asked to bring dessert to a potluck dinner.  The hostess is a caramel fanatic, so I knew that my Dulce de Leche Cheesecake would be well-received, but I wanted something more portable.  This recipe yields 24 two-bite cheesecakes, but can easily be halved if you only need a dozen.
Ingredients:
24 round vanilla cookies (I used Nabisco Nillas)
2 8-ounce packages cream cheese, room temperature
1 14-ounce can sweetened condensed milk
4 eggs
1/2 cup good quality, Dulce de Leche (I used La Salamandra)
Directions:
Preheat oven to 300 degrees.
Add cupcake liners to two 12-muffin pans.  Place one vanilla cookie in the bottom of each liner.
In the bowl of an electric mixer fitted with the paddle attachment, beat the cream cheese until light and fluffy, about a minute.  Add the condensed milk then the eggs, one at a time, and beat for about 2 minutes, scraping down the sides of the bowl as needed.
Divide the batter (I use a measuring cup) among the cupcake liners and bake until the centers of the cheesecakes are nearly set and outer edges are firm, about 23 minutes.
Cool the muffin pans to room temperature then refrigerate the cheesecakes in the muffin pans for at least an hour.
Microwave the Dulce de Leche for about 20 seconds and use to top each mini cheesecake with about a half teaspoon of warm Dulce de Leche.
Yields 24 mini cheesecakes