Demetri Malk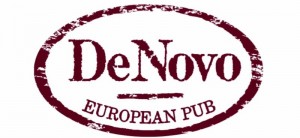 i of beloved Table 8 and D'metri's, is opening De Novo European Pub at the Upper Montclair Train Station in late August. The space was previously occupied by the defunct 12 West.
De Novo will be styled after the family-oriented casual pubs of Europe with menus created by Executive Chef Marika Villik, who headed the kitchens at Malki's earlier restaurants. Guests can expect a recognizable and comforting menu with house-made breads, small plates, charcuterie, flatbreads, salads, burgers, house-made pastas, entrées and late-night bar bites. De Novo will also offer a selection of tempting housemade desserts created by Pastry Consultant Risa Magid.
The restaurant is housed inside an historic former train station and updated with rustic touches such as reclaimed barn wood tables and Provençal linens. Banquettes lining the dining room may be configured to accommodate parties of varying size, while the lounge features bar and communal seating. The space's previous acoustic issues have also been addressed with the addition of sound-absorbing panels to minimize noise.
De Novo, Latin for "beginning again," is an appropriate name for Malki's new endeavor, which comes four years after selling the critically acclaimed Table 8 to concentrate on building a house in Westfield for his growing family and joining the service team at the much-lauded Osteria Giotto in Montclair.
"I'm modeling De Novo after the kind of places I want to go after a long day at work," says 41-year-old Malki with enthusiasm. "Delicious food that appeals to everyone, fairly priced and presented with hospitality. I see commuters grabbing a bite and drinks with the family after the train pulls in; I also see a late-night scene with folks hanging out enjoying summer sangrias and signature cocktails."
The focus at De Novo will be on value. Small plates range from $6-$15; entrées priced up to $20. Lunch and dinner will feature the same menu; special brunch menu offered on Sundays. De Novo will be open noon to 10 p.m. Sunday – Thursday and until 11 p.m. Friday and Saturday, with a late night bar bite menu offered until midnight daily.
De Novo – 275 Bellevue Ave., Upper Montclair, NJ 07043.
Cheers,
Veronique