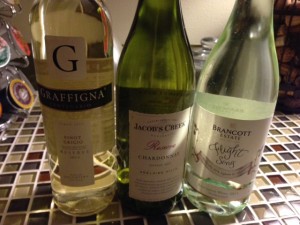 Last night, I participated in a #WineChat event on Twitter. The featured wines were from the southern hemisphere, specifically New Zealand, Australia and Argentina. The three white wines were described as "Summer Sippers".
I've explained the idea of virtual wine tastings in previous posts but for those of you who are new to virtual wine tastings, this is what the story is:
Get a bottle of the wine varietal or brand being featured.
Invite friends to share the wine and experience with you (or snuggle in your pajamas in front of the computer if you prefer).
Sip and share your thoughts about the wine(s) with other tasters around the world using the designated hashtag on Twitter and/or Facebook!
Here are my tasting notes from the three featured wines – Brancott Estate Flight Song Sauvignon Blanc from New Zealand, Graffigna Pinot Grigio from Argentina and Jacob's Creek Reserve Riesling from Australia:
2012 Graffigna Centenario Pinot Grigio
Light in color with a hint of green. This is a light, easy drinking, sipping wine with a floral nose and a bright, fresh citrus palate. As the wine warmed up a bit, it developed tropical fruit flavors that I enjoyed.
Pairings: Delicate fish, seafood, served as an aperitif
Grape Type(s): Pinot Grigio
Region: Tulum Valley, Argentina
Price: $11
2013 Brancott Estate Flight Song Sauvignon Blanc
For fans of cool label marketing, this is a winner. The bottle is just so pretty. This is the ultimate light wine, nearly clear in color in the bottle. There are light lemony and grassy aromas and ripe Meyer lemon flavors that finish on a zippy, zesty citrus note. At 88 calories per pour at 9% alcohol – bridal shower-ready wine.
Pairings: Serve as an aperitif or with a light salad
Grape Type(s): Sauvignon blanc
Region: Marlborough, New Zealand
Price: $15
2012 Jacob's Creek Reserve Adelaide Hills Chardonnay
Pale greenish in the glass with a citrusy, light caramel nose. Big fruit, little jammy plum, nice minerality with a little oak. This isn't your buttery oak bomb. I tend to like this lightly oaked style. Could be interesting with some cellaring.
Pairings: Spicy dishes (Thai, Indian, Mexican), pork
Grape Type(s): Chardonnay
Region: Adelaide Hills, Australia
Price: $15
These three bottles were sent to me as samples and are being added to my repertoire.
Cheers,
Veronique