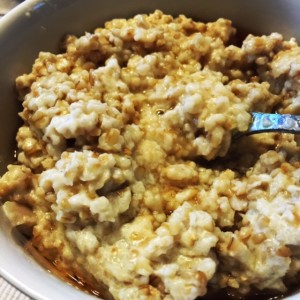 I've been very successfully using my Slow Cooker Oatmeal technique for years and think it produces the best results for creamy steel cut oats that still have a bit of texture.
Having said that, last week, I was in a hurry with just 3-4 hours on my hands and decided to throw all the ingredients directly to the slow cooker and see what happens. What happened are great oats! I must admit that the overnight technique in a separate bowl does produce the best results, but in a rush, this is pretty great too.
Ingredients:
4 cups water
1 cup steel cut oats ( I use McCann's Steel Cut Irish Oatmeal)
½ tsp. Kosher salt
Directions:
Add the water, oats and salt in a slow cooker (crockpot) and stir to combine.
Turn the Crockpot on low and cook for 3 hours.
Serve with a generous splash of Quebec maple syrup.
Makes 6 servings.